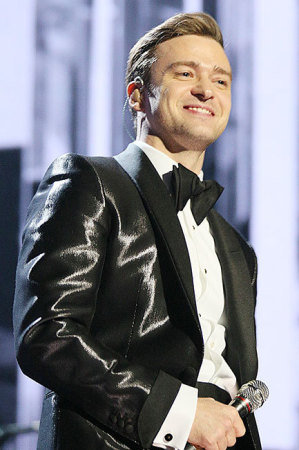 Justin Timberlake is getting his suit and tie ready for Saturday Night Live. In a move that is surprising to no one, the frequent SNL guest will host and perform on the March 9 episode of the sketch comedy mainstay to promote his new album, The 20/20 Experience, out March 19.
But that's not all — the following week, Timberlake will spend every night performing and talking with Jimmy Fallon on Late Night With Jimmy Fallon. Yep, an entire week (March 11-15) of Justin and Jimmy. Hopefully that means an entire week of the "Barry Gibb Talk Show", but that might just be wishful thinking.
This will be Timberlake's fifth time hosting SNL in ten years (he made his hosting debut in 2003), but he's cameoed on the show eight other times. He also sang with N Sync as the musical guest in 2000. Basically, this guy would have a parking spot at 30 Rock if they actually had a parking garage there.
RELATED: Justin Timberlake's '20/20 Experience' Album Cover is a Sexy Trip to the Optometrist
With Andy Samberg gone it's doubtful that JT will reprise his "Dick in a Box" role, but chances are he'll pull out another of his fan favorite characters — we'll surely see his singing mascot ("bring it on down to [fill in the blank]-ville!"), if nothing else.
Interestingly, Timberlake will be the third person to host and perform on SNL this season, after Bruno Mars and Justin Bieber. Sorry, Biebs, but let J.T. show you how it's done.
Once you found out JT was putting out a new album you knew a SNL appearance wouldn't be far behind, but it's still pretty exciting. How do you think his episode will stack up against the other hosts this season?
Follow Jean on Twitter @hijean
[PHOTO CREDIT: John Marshall/Invision/AP Images]
---
From Our Partners:


25 Forgotten Celebrity Crushes of the '90s (Vh1)


30 Stars Who Have Gone Topless (Celebuzz)