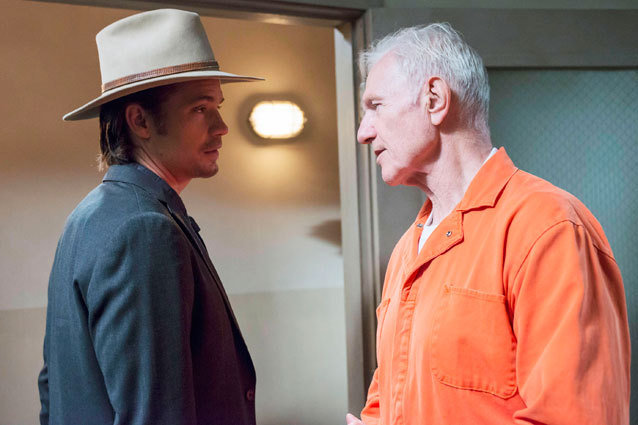 A lot of bodies dropped tonight on Justified — well, not just a lot of bodies, a lot of bodies for freaking Justified. But despite the horrific violence we saw enacted by Theo Tonin's man on the poor not-so-innocent residents of Harlan County, Kentucky, nothing hurt as bad as the sudden death of a much beloved central character. [SPOILERS AHEAD]
Well, Raylan (Timothy Olyphant) is now officially an orphan, after a prison fight proved to be the end of Arlo (Raymond J. Barry). Unfortunately, according to Barry, his death may have been for naught. "I found out [about Arlo's death] two months ago, at the beginning of this season," Barry says. "At first [the producers] were ambivalent about it. Then it became consolidated that they were going to kill me off, because Arlo killed somebody in prison. There's only so much of that you can do without repercussions."
Of course, Arlo killed someone who wanted to get in on the secret of Drew Thompson — the mysterious federal witness who disappeared decades ago, after somehow becoming involved with Arlo. Our gut (and Raylan's gut) tells us that Arlo knew a lot more about Thompson than he was saying, but Barry says that some of it may have been solely for the sake of Raylan-torture. "They never spelled out to me, personally, what Drew Thompson was all about," he says. "We never got to the point where I knew what kind of information we were hiding from him. I knew it was important, and I knew [Raylan] was not going to get the information from me. I would say that [withholding the information] was a 'screw you' [to Raylan]."
Poor Raylan — his last words from his father were literally "kiss my ass" — something that Barry wasn't necessarily a huge fan of. "I was hoping there'd be kind of breakthrough where Arlo would say, 'Listen, boy — I love you. You know that, don't you?'" he says. "It would completely blow everybody's mind!"
Undoubtedly, the biggest mind blown there would have been Raylan's. Still, despite the terrible nature of their ultimate goodbye, Barry knows that there will be some emotional residue left over. "I can't imagine that a son would not have some residue of emotion having to do with the death of a father," he says. "Fathers and sons, and fathers and daughters, are connected in a primal way that you can't argue with."
Barry will carry some emotional residue from the show as well — many of them having to do with his relationship with onscreen son Olyphant, and the show's crew. "The ambiance [on my last day] was sentimental, and a little bit heart-rending," he says. "I loved that job. I really did... they were just good people. [Olyphant and I] had conversations about our kids. He was an athlete, he swam at USC and was a good tennis player. I played football and track for Brown University. There was a bond there, there's no question about it. We got used to it."
Still, he's not necessarily saying that he sees great things for his TV progeny. In fact, a lot of his predictions for Raylan sound pretty status quo. "I see Raylan going from one love affair to another," he says. "Having kids... when they need a conflict to go on, they'll invent some kind of difficulty in the relationship and find another woman."
Sounds about accurate. But the conflict between Raylan and Arlo was all too true to life. "We set up a beautiful conflict between Tim Olyphant and myself," Barry says. "Arlo represents the antithesis of what Raylan supposedly is fighting for."
Follow Shaunna on Twitter @HWShaunna
Photo Credit: Prashant Gupta/FX
---
From Our Partners:


25 Most Scandalous Celeb Twitpics (Vh1)


33 Child Stars: Where Are They Now? (Celebuzz)