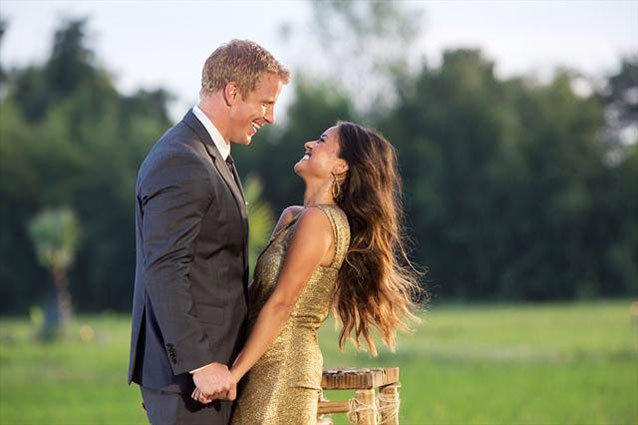 So, you've found your One True Love thanks to the power of reality television and you're ready to start your life with them. So what's the first thing you do? Join the cast of Dancing with the Stars, natch! At least, that's the plan for Sean Lowe, who plucked his bride-to-be Catherine Giudici out of the ether of matchmaking TV on The Bachelor. Lowe, who was oh-so adamant about looking for honest-to-goodness, the-process-works love (and no, not fame at all!) decided that another great way to showcase said love would be to involve television cameras in its growth, again and again. Because a relationship that starts on TV only really exists when it is playing out in front of millions of people. It's like when a tree falls in the woods and no one's around to hear it.
RELATED: 'The Bachelor' Finale Recap: Married to Tears
So it's totally not weird that Lowe, insistent that he wasn't looking for the limelight in his True Love Quest, reiterated to reporters today that he doesn't "like the fame aspect of being The Bachelor or being on Dancing with the Stars." Which is probably why he and Giudici decided to have their wedding on a TV show (announced on a TV show, before heading to New York to be on a bunch of other TV shows about being on TV shows). Lowe seems to believe, though, that these are not fame-seeking moments, they're merely opportunities that are "too good to pass up," and "an incredible unique challenge" that only come around "once in a lifetime."  Lowe is "just a person that loves to try new things and step outside [his] comfort zone," so being on TV and famous is a state of mind, man — not an action! 
As for future plans of television dominance, Lowe explained to Hollywood.com that "at some point, we want to have a life with some normalcy to it." But don't count this boy out just yet (so coy, he is!), because "opportunities may pop up that are just great, and we might feel that they are great for us." So basically, don't hold your breath but, yeah, sounds like these two are pretty game for an extension of their fifteen minutes should it present itself.  
Lowe explained "there's a good chance we'll head to Dallas or go somewhere and resume a normal life" once DWTS is over. But still, it's just a chance, not a definitive. Good chances, great opportunities: Sean and Catherine's life together sounds like one big nebulous cloud of potential TV time — but only if it can be presented as a fun, goofy, spontaneous thing they can accomplish (rather than what it really is: some good money and a bit more time in the spotlight, relishing the perks of expiration-date fame). 
RELATED: Arie Luyendyk Jr's 'Bachelor' Blog: To Be Lindsay
For fans hoping these two knuckleheads actually make it down the aisle, the duo explained that spending time together (to, you know, get to know each other as real humans rather than set pieces) has opened their eyes up even more to love. They're learning about each other! As you do in the beginning parts of a relationship — though that is typically before the whole get-on-one-knee thing, but hey, different strokes, different folks.
Regardless, when it comes to what has and hasn't changed for the duo, everything has somehow managed to stay perfect in the three or so months since filming. "He's just so relaxed and so comfortable and we just have a blast together. We're just goofballs," explained Giudici, which "was the best thing" she's taken away from her brief but totally permanent relationship with Lowe. "If I've learned anything, I think it's just how incredibly passionate Catherine is, and how much she wants to love me," said Lowe. "And I couldn't ask for anything more in a potential wife. I think I'm growing more and more in love with her as each day passes. And hopefully that never stops." Well, that certainly is the hope with the whole 'til-death-do-us-part thing.  
RELATED: Sean Lowe Joins 'Dancing with the Stars'
However, in the eons since filming (shooting ended around Thanksgiving), that flame has magically not gone out! "I think some people have the fear after filming is over that things might not be the same, or you might not have feelings of love after you get away from the exotic destinations and so forth, but that's certainly not true in our case." Love, like a Neil Lane diamond, is forever.
Reporting by Lindsey DiMattina.
[Photo Credit: ABC]
Follow Alicia on Twitter @alicialutes
---
You Might Also Like:


8 Male Stars With Tramp Stamps

Stars Who Have Lost Roles For Being Too Hot (Celebuzz)