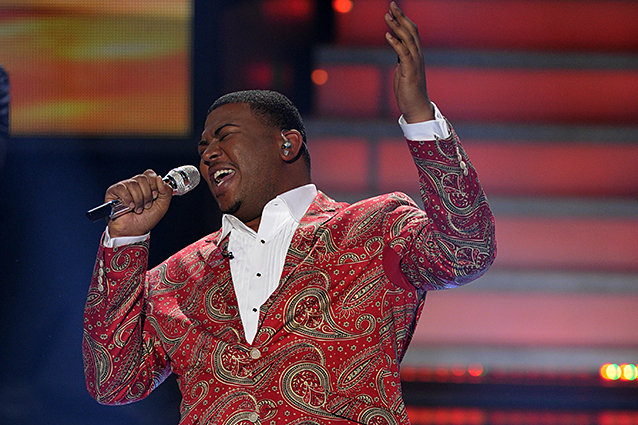 Nicki Minaj's late arrival to American Idol — the first time in Idol history a judge didn't make it on time (and we all thought it'd be Mariah Carey!) — was as surprising to the contestants as it was to the audience. The singers usually see the judges before they all take the stage, and the Top 10 finalists told Hollywood.com they all wondered where their fourth fearless leader was as the performance show began.
While Paul Jolley thought maybe a guest judge would take Minaj's place, Amber Holcomb thought Minaj was entering the stage in a more impressive way. "I thought she was going to come in on, like, a platform with fog and have grand entrance," Holcomb tells Hollywood.com backstage after the show.
RELATED: 'American Idol': Why was Nicki Minaj Late?
Devin Velez understands about the traffic problem — as long as Minaj made it to his performance on time. "I'm glad that she got there for my performance," he says with a laugh.
Fortunately, Minaj only managed to miss one song — and although she wasn't on stage for the judging, she still caught a little bit of it. Curtis Finch Jr., who kicked off the show, tells Hollywood.com that Minaj was able to give him a little bit of feedback after he left the stage.
"Nicki wasn't there! I was like where are you Nicki? I need you now now now! I always look forward to what she's going to say so I kind of feel like there was a missing piece of the puzzle," he says. "But when I got done singing and left the stage she was standing right there and [said] good job, so I kind of feel like she was still there for me."
What did you think of Minaj's absence?
Follow Jean on Twitter @hijean
[Photo Credit: Ray Mickshaw/AP Photo/Fox]
---
You Might Also Like:


14 Movies That Are, Surprisingly, Not Porn

Stars Who Have Lost Roles For Being Too Hot (Celebuzz)