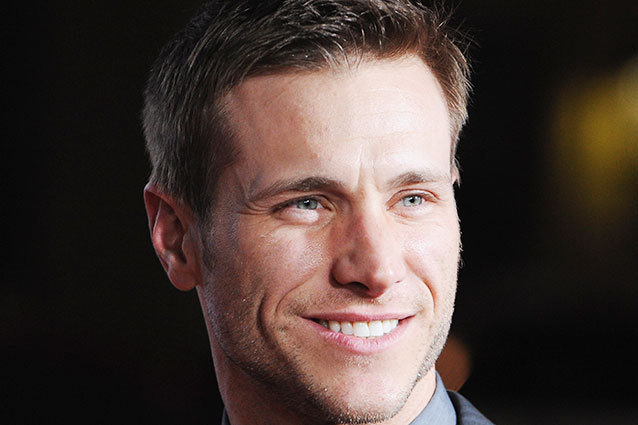 Last week, Sean Lowe made the brave decision to go straight from starring on The Bachelor to competing on the new season of Dancing with the Stars. During a conference call, he told Hollywood.com that it was "an incredible, unique challenge… too good to pass up" that only comes around "once in a lifetime." While some people may question the sincerity behind Sean's decision, former Bachelor star Jake Pavelka, who also went straight from the ABC love show to the DWTS dance floor, believes that Sean's intentions are true. "I back Sean a million percent," Pavelka tells Hollywood.com. "He did the right thing. This is a life changing opportunity."
Apparently, it's not all about the fame for Sean. "I don't think he's chasing fame at all," Pavelka says. "I think he's going after his heart and living life."
RELATED: 5 Gratuitous Sean Lowe Shirtless Pics
DWTS is an opportunity that Sean can't pass up, and he has to do it now while the timing is right. "It's a window of opportunity," Pavelka explains. "Sean's relevancy right now is extremely high. He was a very well liked Bachelor and he had a lot of fans, and a really good season. He made a good decision to go on there because all the millions of fans that he carried through The Bachelor will return to see him on Dancing with the Stars."
Pavelka continues, "People that would prejudge Sean for going onto Dancing with the Stars are probably just a little jealous of the opportunity. If they were offered Dancing with the Stars, they'd take it in two seconds. They're lying if they said they wouldn't."
However, even if Sean was going on DWTS to chase fame, Jake doesn't think that the show provides a great platform to launch a career in Hollywood. "Who can you name that went on Dancing With the Stars recently that re-launched their career?" Pavelka says. "It seems like it would be the perfect platform, but it isn't. People go on there and then they disappear."
RELATED: 'Bachelor' Ratings Rise
But Sean doesn't need to worry about his haters. He instead needs to focus on his new relationship with Catherine Giudici, his new fiancée. "What will happen, though, is Sean is training 8-10 hours a day — it's going to put strain on the relationship," Pavelka says. "He is in a brand new relationship. You know how you [would] feel if you saw your partner dancing the tango, which is a very sexual dance."
According to Pavelka, Catherine might get a bit jealous. "You act like you're in love on the dance floor," Pavelka says. "Even if you don't show it, that stuff wears on a brand new relationship. You can't tell me it doesn't."
Pavelka has some suggestions for keeping Catherine from growing insecure. "Keep her involved in the dancing," he says. "Communicate. Lots and lots and lots of communication — he needs to make her feel secure in the relationship."
RELATED: Sean Lowe Joins 'Dancing with the Stars'
While Sean has to pay attention to Catherine and help her feel included, he also can't avoid the spotlight altogether, because it might hurt his chances at winning DWTS. "If Sean elects to [stay out of the headlines], it's going to hurt his votes," Pavelka says. "Sean needs to be out there in the public, letting people watch him train and be part of his life."
Depsite the struggles Sean might face ahead, Pavelka feels confident that the new couple will make it through. "I know Catherine encouraged him to do [the show], and they're a strong couple," Pavelka says. "I would [even] expect them to be setting a [wedding] date within the next year."
Dancing with the Stars premieres on ABC Monday night. Will you be cheering for Sean?
Follow Lindsey on Twitter @LDiMat.
[Photo Credit: Jon Kopaloff/FilmMagic]
---
You Might Also Like:


Topanga's Revealing Lingerie Shoot: Hello '90s!


25 Stars Before They Were Famous