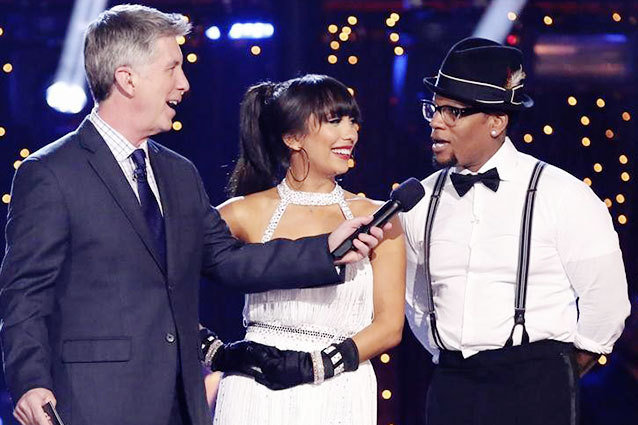 Last week, the first pair left Dancing With the Stars Season 16. But it wasn't an actual elimination. Dorothy Hamill exited the show voluntarily after a back injury prevented her from continuing. "I felt so bad for Dorothy," DWTS expert Louis van Amstel tells Hollywood.com. "As an athlete, when you have an injury, it is even worse because you know what you cannot do. It is so frustrating. You could see [her pain] but at the same time you could still see the musicality and her natural ability of movement. I hope she takes care of her injury and it goes away fast."
The silver lining of Hamill's exit meant that struggling contestant D.L. Hughley was deemed safe, and has another chance to win over the audience tonight. "I'm worried for D.L.," van Amstel says. "When I saw his package, my thought was, 'You're going home. Your package just ruined it for you. Stop whining!'"
But van Amstel thinks Hughley has it in him to turn it around thanks to his apology to his partner Cheryl Burke last week. "He had a revelation and he kind of redeemed himself after he danced because that was a very self-deprecating moment where he said he was wrong," van Amstel says. "It was good TV because it was very positive in the end. But will America be that forgiving, I don't know."
RELATED: 'DWTS': Louis van Amstel Weighs In On the Best (and Worst) Pairs from Week 1
Another competitor who had a tough time last week was Wynonna Judd, but van Amstel is confident that won't hurt her going forward. "Instead of calling that a breakdown, I call that a revelation. It was a breakthrough," van Amstel says. "In that moment she let go, and her quickstep was pretty good. I agree with the judges that it was very safe, but it is still early and she will now have to up her game. It was a good moment for her to let it out, let it go, and move on, which she did."
As for Andy Dick, van Amstel thinks he's got nothing to worry about despite his less-than-perfect dancing ability. "Andy is not going home," van Amstel says. "From the package point of view, from costuming, staging, production value, dance content, music, they had the best performance. I'm not talking his dance ability, because Zendaya, Kellie [Pickler], and Jacoby Jones are way better dancers but with the package, the comedy played up to his strengths. I thought it was the best package as a whole of the night, and I did not see that coming." 
The top three dancers of the night according to van Amstel are still the same as Week 1: Zendaya, Pickler, and Jones. "Kellie won the night, by far. But having said that, Zendaya had to perform and dance in heels and had to learn proper jive. That is harder," van Amstel says. "So to me, the girls are in the top three. And do not rule out Jacoby Jones. The guy was amazing, and he is not a dancer. He is a football player. In the packages, that's where Jacoby Jones shines. His personality is contagious."
Tune in to Dancing With the Stars on Mondays at 8 PM ET/PT, and Tuesdays at 9 PM ET/PT on ABC.
Follow Sydney on Twitter: @SydneyBucksbaum
[Photo Credit: Adam Taylor/ABC]
---
You Might Also Like:


Topanga's Revealing Lingerie Shoot: Hello '90s!


13 Most WTF Fan Tributes