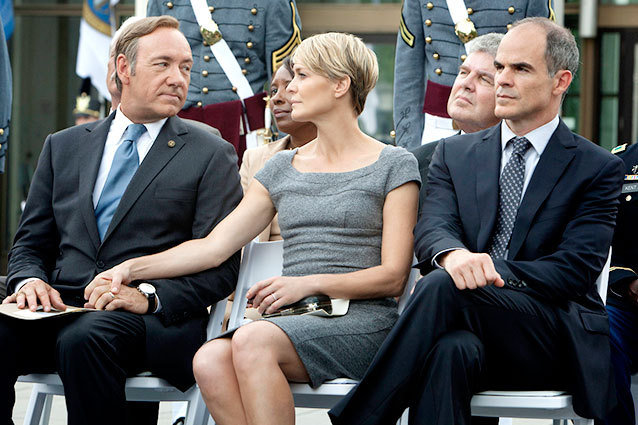 Never before has $7.99 per month been a better deal. Sure, when I first started my Netflix subscription a few years ago, I was satisfied to watch old movies whenever I wanted, wherever I wanted, at such a nominal fee. And I could also watch series that had long since disappeared from the television screen. But on February 1, Netflix shook up its basic marketing plan, and the whole television industry for that matter, by releasing its first-ever original series, House of Cards. It wasn't quite the fact that Netflix came out with its own programming that threw the industry for a loop, it was more so how Netflix decided to relay the new 13-episode series to its subscribers. Instead of the typical week-by-week play, Netflix released all of House of Cards' episodes at once, leaving viewers to decide how they wanted to watch the series.
"Ultimately, we all arrived at 13 in one day because that seemed in line with what Netflix had to offer viewers that very few networks are able to, which is the liberty to watch things how they want to watch them, when they want to watch them, on what device they want to watch them on," House of Cards head writer and creator Beau Willimon tells Hollywood.com exclusively.
But when Willimon and his team first started dreaming up how they would produce House of Cards, they didn't necessarily plan to release the show in this manner. "When I started working on the script with my writers, we hadn't made a decision as to how we were going to deliver it," he says. "Certainly, 13 all at once was one of several options, so I guess I really thought about the story as something that should be able to work both in a long format and something that could be watched all at once."
RELATED: How House of Cards Got Me to Give Up Twitter
Netflix decided to go with the all-at-once model, and the show was an instant success that got its subscribers talking. It is likely this success that prompted Sony and Netflix decided to release the show on DVD — now, consumers who do not subscribe to Netflix will be able to purchase the show and be a part of the fad.
It is, after all, the binge watching experience that makes this show so popular. "We always did think about it as a 13-hour movie," Willimon says. "However people ended up watching it, we wanted to have the more cinematic feel both visually and narratively than what you might find in a typical TV show."
Typical is one thing House of Cards is not. It's safe to say that many Netflix subscribers approached the show in the binge watching fashion, which goes against all regular TV programming conventions. "Generally, I think that the viewers tend to be the ones who determine the direction of things," Willimon says. "And they have determined that they want to be empowered by the choice of how they want to watch things. And those of us who make art and those of us who write about it have to respond to that."
So, Netflix decided to deliver what the viewers craved. "If people binge watch the show and have a great experience doing so, and it becomes a unique experience as compared to other new shows that have come out, fantastic," Willimon explains. "The most important thing to me is that they not only binge watch, but that they like what they saw. That it was worth the binging."
RELATED: 'House of Cards' A Hit on Netflix
Willimon adds, "I just want people to think that the experience is worth the 13 hours they put in regardless of how they put in those 13 hours."
So now, by putting this show on DVD, Sony and Netflix are opening up the cultural phenomenon this show has created to a wider audience to experience. "There is a little bit of a cultural moment here, because this is the first time that this has been done for a new series," Willimon says. "It's been an evolution, and we're just the next stage in it."
Follow Lindsey on Twitter @LDiMat.
[Photo Credit: Patrick Harbron]
---
From Our Partners


See 'Game of Thrones' as 'Mad Men' (Vulture)


Hayden Panetierre Bikinis in Miami (Celebuzz)