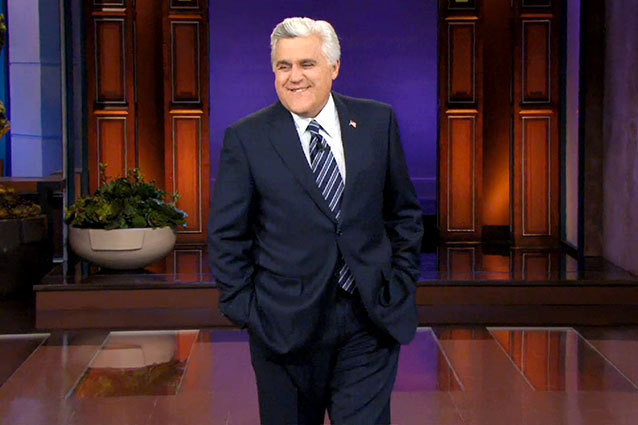 Well this is certainly going a different way than it did in 2010. Jay Leno continued the trend of gracious guys patting each other on the back when he speaking about the official announcement of his Tonight Show retirement come February 2014. And handing over the reins to Late Night counterpart, Jimmy Fallon, has turned into an interesting battle: one that involves trying out-nice the other.
"I had a really awkward day today," Leno started out. "I had to call David Letterman and tell him he didn't get the Tonight Show again. Awful! Terrible!" Leno is, of course, speaking to the first Late Night War, between himself and Letterman for Carson's Tonight Show seat in the early nineties.
RELATED: Fallon Speaks Out on 'Tonight Show' News
Letterman also had something to say, but it was a far cry from the tempered and gracious responses of the NBC boys. "NBC, God bless 'em, announced the official date for Jay Leno's departure – no mention of his official date of return, however." And the jokes, they kept comin, as he alluded to the 2010 version of this same story (though that time, it starred Conan O'Brien) when speaking of Fallon: "He's being replaced by a younger late night talk show host – what could possibly go wrong? Honestly. They had pretty good luck with this in the past."
Leno, however, kept things simple and sweet when speaking of his successor, saying "I want to congratulate our good friend Jimmy Fallon! He is a hell of a guy! He's going to do a great job." His did have one bit of advice, though: keep the swiftly-sinking NBC ship afloat — by all means necessary! — or else. "We've all fought, kicked, and scratched, to get this network up to 5th place, now we have to keep it there! Jimmy, don't let it slip into 6th! We are counting on you! We're counting on you Jimmy."
RELATED: David Letterman Talks S**t on Leno, NBC, Late Night Wars
Fallon, who took to his own monologue on Wednesday night, thanked Leno for being "so gracious. It means so much to me to have his support." And if that wasn't enough from the nice parade, ABC's Jimmy Kimmel tweeted his own congratulatory sentiments:
congratulations to my dear, sweet @jimmyfallon - a formidable rival and an incredible lover

— Jimmy Kimmel (@jimmykimmel) April 3, 2013
But don't worry, as Leno still managed to get a couple jabs at Justin Bieber and Rutgers University tied in for good measure. Check out Leno's full commentary in the video, below:
Follow @alicialutes on Twitter
[Photo Credit: NBC]
---
From Our Partners


See 'Game of Thrones' as 'Mad Men' (Vulture)


Hayden Panetierre Bikinis in Miami (Celebuzz)