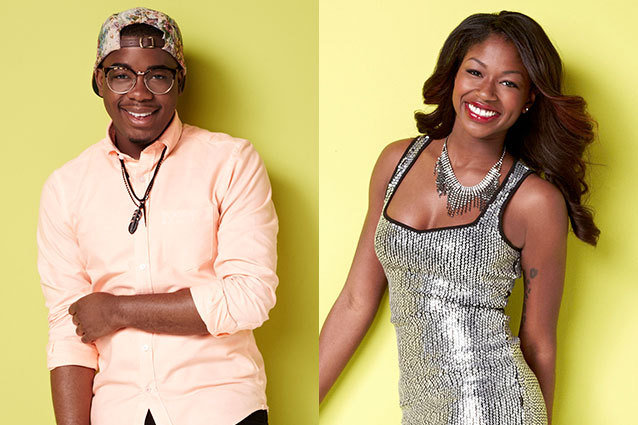 There's a showmance a-brewin' on American Idol — and now everyone knows. Top 7 week was not only rock music-themed, it was also the annual "have the contestants gossip about each other" show. The juiciest bit to come from the confessionals? Burnell Taylor's got a little crush on Amber Holcomb! And backstage after the performances, Holcomb told Hollywood.com that the crush just might be reciprocated.
"He's a nice guy," Holcomb demures when asked about her fellow contestant's affection. "I like Burnell a lot. I guess, yeah, he's cool! The feeling is mutual," she tells reporters.
RELATED: Burnell Taylor Says He Won't Win 'American Idol'
Juicy! Taylor says he's okay with the world knowing about his crush, but he wants people to know he's not the only one with feelings. "I knew it was going to come out one day," he admits. "I don't want people to think it's a crush, because I feel like a crush only involves one person."
We also learned during the confessionals that Amber's BFF in the house is Lazaro Arbos, and the Cuban-born singer might have let his pal's relationship status slip during his backstage interview. "I love the fact that they are going out," he tells reporters before backtracking a bit. "I love the fact that they kind of like each other. I'm not sure what's going on! I'm just not sure."
Follow Jean on Twitter @hijean
---
From Our Partners


See 'Game of Thrones' as 'Mad Men' (Vulture)


Hayden Panetierre Bikinis in Miami (Celebuzz)