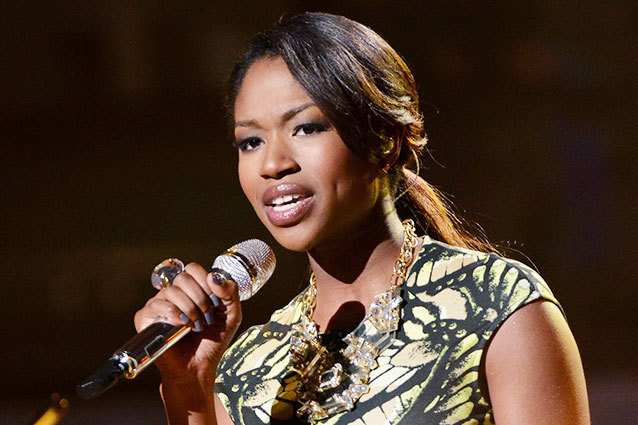 The American Idol judges have until Top 5 week to enact their one and only save. Thus far during Season 12 they've opted not to keep any of the booted boys in the competition, and the five remaining ladies (and lone dude) have a hunch it's because they've been waiting to save a girl, should she land on the bottom.
The judges haven't used it yet because "I think they want to save a girl," finalist Angie Miller tells Hollywood.com the day before the Top 6 performance show. You never know how America's votes will shake out, and "it could be totally messed up! Kree [Harrison] could win this whole thing — she's amazing — but you never know with America. They could completely screw it up and she could get voted off. But with the save, people can wake up and realize 'what the heck am I doing,' like with Jessica Sanchez last year."
Candice Glover has a feeling that the judges are going to pull the trigger this week, though. "From watching seasons past, it's about that time," she says.
Lazaro Arbos knows specifically who they've been waiting for: His finalist BFF Amber Holcomb. "They love her so much and they know she hasn't been getting a lot of recognition so they want to make sure that she gets farther because she does deserve it," he says. "She sounds like Whitney [Houston]! She's such an amazing vocalist, and my best friend. So I hope they do save her if that were the case, but I think that she'll be fine because I think people have recognized her and have started to vote for her. So hopefully they don't have to save her."
Janelle Arthur, who landed in the bottom 2 last week alongside Burnell Taylor, says although she thinks the judges have been waiting to save a girl, they may not even have to before they can't exercise the option any longer. "You never know," she says. "Even if I was eliminated and they didn't save me, I'm proud to have made it to this point and I'm stoked. It makes me feel so privileged to be in the midst of such talented girls because it's like I'm deserving to be with them, and that makes me feel great."
More:
'American Idol' Top 6 Singing Beyonce, Adele, and More
'American Idol' Top 10 Reveal Their Dream Themes
Burnell Taylor Says Amber Holcomb Has a Crush on Him Too
Follow Jean on Twitter @hijean
---
From Our Partners


Jessica Alba Bikinis in St. Barts (Celebuzz)


Pics of The Rock Making Things Look Small (Vulture)