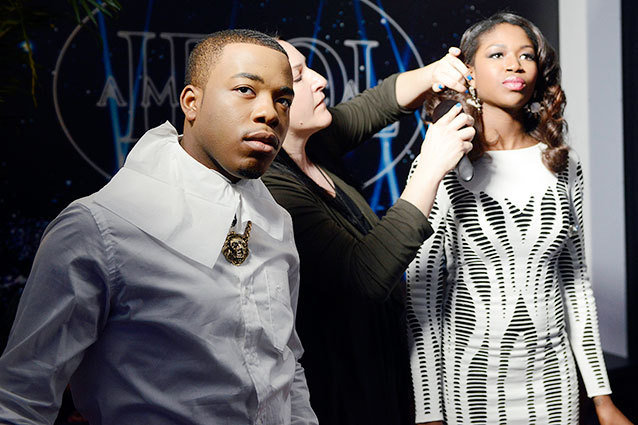 It's true — love is in the air for American Idol contestants Amber Holcomb and Burnell Taylor. But fate can be cruel, as the day after confessing to a crush on his fellow finalist on national TV, Taylor was booted from the reality singing competition. Luckily, he went out with a bang, planting a kiss on the object of his affection.
Holcomb tells Hollywood.com says that although the two aren't officially dating, they've been talking nonstop since he left the competition. "We talk," she admits with a giggle. "I just tell him I miss him all the time."
Although Holcomb hasn't been as open about her feelings as Taylor, she says his affection is reciprocated. "Yeah, it's not a crush. I like him too. We're just getting to know each other, though," she says, something they'll be able to continue on the Idols Live summer tour. "That'll be a bigger opportunity to get to know each other."
Holcomb says she didn't expect Taylor to make a move on live television. "He's so smooth! He started singing to me and I just looked at him," she says with a laugh. "I don't know! I was just listening to him sing, like a serenade," before he planted one on her. "I didn't expect it at all."
More:
'American Idol' Top 6 Singing Beyonce, Adele, and More
'American Idol' Top 10 Reveal Their Dream Themes
Burnell Taylor Says Amber Holcomb Has a Crush on Him Too
Follow Jean on Twitter @hijean
---
From Our Partners


Jessica Alba Bikinis in St. Barts (Celebuzz)


Pics of The Rock Making Things Look Small (Vulture)