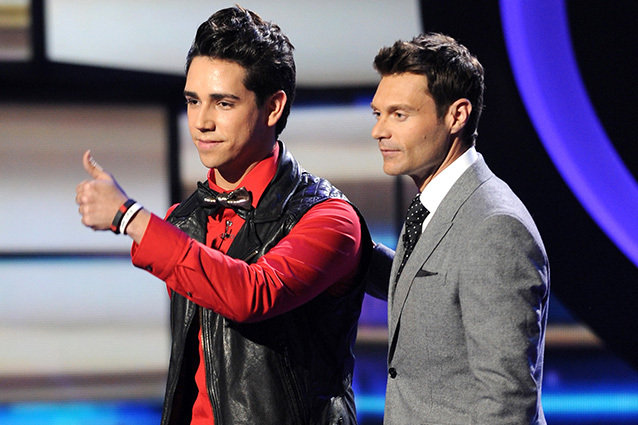 Ryan Murphy, check your messages: Lazaro Arbos, the latest singer to get voted off of American Idol, wants to be on your show.
The booted singer tells Hollywood.com and a small group of reporters backstage after his elimination during Top 6 week that he's already got his eyes on his next big showbiz goal: Glee. "My next goal is to get on Glee," he says. "I am trying to contact Ryan Murphy, so if he stops by tell him to call me so I can be on that show."
Hey, Jessica Sanchez, Season 11's runner-up, is currently filming her guest spot, so it's not a crazy unattainable dream. "Yeah, she's doing it. It's possible! Ryan, call me maybe," Arbos jokes before singing the chorus of last year's most notorious earworm.
In his immediate future, though, is something a lot more attainable: sleep. "I am excited to go home and sleep, darling," he says. "Yes, that is my main goal now!"
Although Arbos isn't actually allowed to pledge his allegiance to any particular contestant left in the game, it's probably safe to assume he's pulling for his fellow finalist/BFF, Amber Holcomb, who was a wreck after her pal's ouster. "I am technically not allowed to say who I want to win," Arbos says, "but when you watch the show back, just look at the girl that cried the most and then you'll see who I want to win!"
More:
'American Idol' Results: Did Lazaro Arbos Finally Get the Boot?
Why 'American Idol' Needs Lazaro Arbos
'American Idol' Top 6 Singing Beyonce, Adele, and More
Follow Jean on Twitter @hijean
---
From Our Partners


Jessica Alba Bikinis in St. Barts (Celebuzz)


Which Game of Thrones Actor Looks Least Like His On-Screen Character? (Vulture)