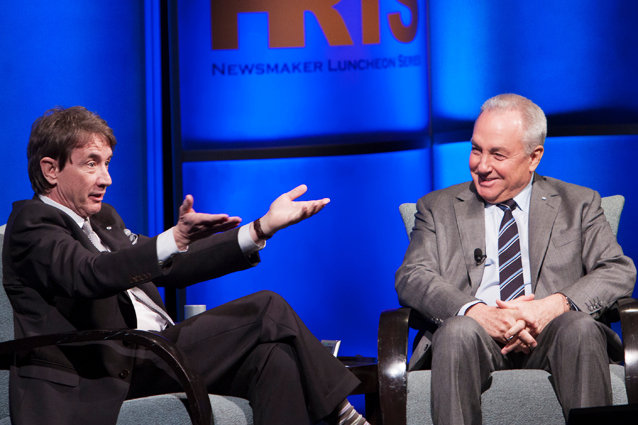 They say that everyone's a comedian, but Lorne Michaels is the man you need to impress if you actually want to make comedy — at least on television (and the occasional film). In a Comedy on TV luncheon hosted by the Hollywood Radio and Television Society in Beverly Hills — moderated by Martin Short — on Tuesday, the oft-reserved Michaels opened up about what it takes to produce such a divisive form of entertainment.
Michaels, who has helmed Saturday Night Live as creator and producer since its inception (minus that whole pesky '86 season), discussed his future with the franchise as something that he'll do "as long as I possibly can," but that he's aware that the day will come when he needs to step down. "I think that there will be a day when I'll look at it and say I don't have the edge I used to," but that "as long as it's relevant, [SNL] should be on."
And its relevancy is felt the most when it handles great tragedy. No doubt a nod to the tragic bombing at the Boston Marathon on Monday, Short spoke to Michaels' deft handling of late night amid a crisis, discussing the way SNL handled both 9/11 and the Newtown shootings. "I think that what happens is, when you're doing live [television], you know that everyone knows that you're there, you can say something," he said. "Broadcast has an obligation and a responsibility to be present, to be connected to what is going on. And that is, you can't divide everything into news and entertainment. When something that big happens, you have to address it."
One thing he seemed hesitant to address, though, was the future of The Tonight Show. NBC confirmed Late Night (and SNL alum, natch) Jimmy Fallon would be taking over in 2014 (with Michaels hopping on as executive producer), but Michaels kept mostly silent, only explaining the reasoning behind the move from Los Angeles to New York. "Jimmy's from New York, the show appeals to New York — I think New York is different from when Carson left and New York was on its ass."
Follow on Twitter @AliciaLutes 
More: 
Why Aren't Women on the 'Late Night' List? 
Kenan Thompson Eyes Primetime Comedy with Lorne Michaels
Patton Oswalt's Marathon Bombing Response is Perfect


---
From Our Partners


Jessica Alba Bikinis in St. Barts (Celebuzz)


Which Game of Thrones Actor Looks Least Like His On-Screen Character? (Vulture)