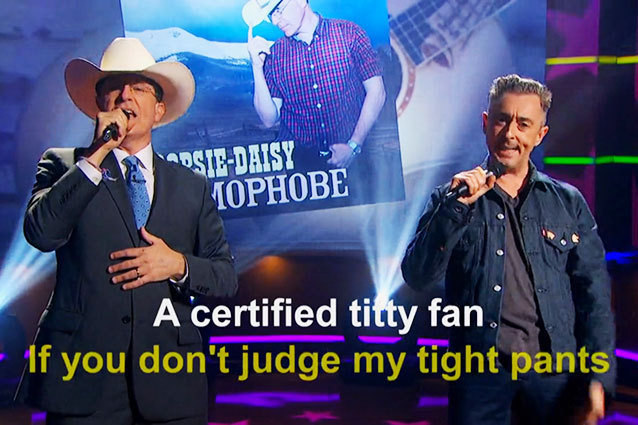 When Brad Paisley and LL Cool J's baffling, culturally insensitive, and totally racist rap/country duet "Accidental Racist" hit the web a week-and-a-half ago, everyone had something to say about it, from its detractors to its defenders (including Mr. Cool J himself who said he was "proud" of the message in the collaboration). But leave it to Stephen Colbert to cut the crap and get to the real problem at the core of "Accidental Racist": "This song suuuuuuuucks." 
During Wednesday night's episode of The Colbert Report, the host — who considers himself something of a country music and Paisley aficionado ("He writes a lot of his songs inspired by validating his identity at websites") — was inspired to write his own awful song that also speaks the language of "universal suckage."
So Colbert, along with his rap collaborator, openly gay actor Alan Cumming (who knew he was a rapper?!) debuted their own duet called "Oopsie-Daisy Homophobe" with such inspired lyrics as, "I hope you understand when I told you 'God hates f**s' the only thing I meant to say was I'm a Skynyrd fan" and "Hey Mr. Straight Man I wish you understood/What it's like to live in the world when you look this good." 
Much like LL Cool J and Paisley's agreement to not judge his gold chains and forgive and forget about that whole slavery thing, if you don't judge Cummings' tight pants, he'll let it slide that you're a "certified titty fan". So many social issues resolved this month! Watch the hilarious, not-sucky "Oopsie-Daisy Homophobe" here: 
More:
No One Will Apologize for 'Accidental Racist' 
Stephen Colbert Gets President Bill Clinton to Send His First-Ever Tweet 
'The Good Wife' is Suddenly the Gayest Show on TV 
---
From Our Partners:


Eva Longoria Bikinis on Spring Break (Celebuzz)


33 Child Stars: Where Are They Now? (Celebuzz)