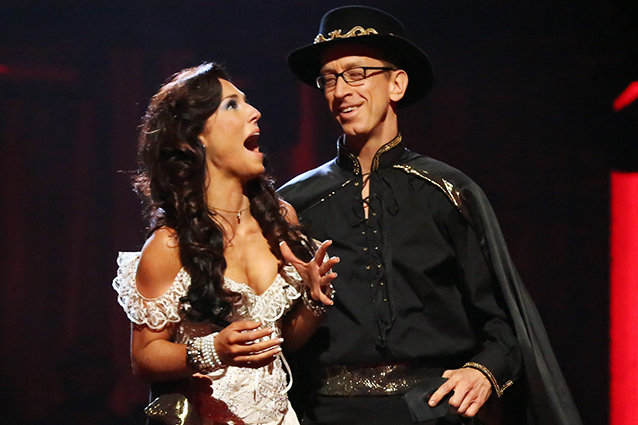 Another one bit the dust last week as comedian and struggling dancer D.L. Hughley was eliminated from Dancing With the Stars, though it was a close call for Andy Dick who tied with Hughley for the lowest scores of the week. "Andy Dick has such a charming way about him and a humbleness that you just cannot deny," DWTS pro dancer Louis van Amstel tells Hollywood.com. "D.L., a lot of people didn't like him because of Week 2, but he did have a lot of really funny one-liners."
Those one-liners didn't help Hughley stay on DWTS, much to Victor Ortiz's relief, since van Amstel was worried for the athlete. "It was definitely a toss-up between Victor and D.L. [being eliminated]," van Amstel says. "I thought there was a lot of standing around on Victor's side [last week]. But what makes him look better is that his demeanor has changed. He's pulled back and isn't that harsh guy anymore. He comes across a little better. But his dancing was the same."
One contestant who did improve his dancing was Jacoby Jones, though according to van Amstel there were a few technical things wrong with his jive. "In jive, you should not point or flex your feet. What I find so wrong is that people at home are being educated wrong about the jive kick," van Amstel says. "In jive, your ankles should be relaxed. I'm being very technical here but Jacoby flexed his feet way too much. But was it bad? No, it was great. Last week I had him in my top four and now he's in top three."
Another technicality van Amstel wants to clarify is that while Sean Lowe delivered a great performance, his quickstep was lacking in some important aspects. "Sean improved in terms of the judges comments but that doesn't mean he improved from last week," van Amstel says. "He had high energy but when it comes to the quickstep, the top has to be cool, calm, and collected, while the feet go 90 miles an hour. And the pair has to stay connected, but they were all over the place. Was it a great performance? Yes. Was it a great quickstep? Questionable. The thing is, I'm looking at this from a professional perspective, but the people at home are just looking at was it entertaining? And it was."
The one dance that was both entertaining and technically perfect was Zendaya's performance that earned the first (and second!) 10 of the season. "It was beautiful, it was gorgeous, it was hot, sexy, best one of the night," van Amstel says. "I expected a 10 and it came twice! She is stealing the show, how amazing is that? And she lives up to the expectations."
Tune in tonight to see the remaining contestants dance in teams captained by Zendaya and Kellie Pickler to performances by the legendary Stevie Wonder. "It's an honor to have Stevie Wonder come and sing," van Amstel says. "Plus, it's not just them dancing to Stevie Wonder songs, he is going to be there performing so that's really nice. It's like a concert. Isn't that something?"
Tune in to Dancing With the Stars on Mondays at 8 PM ET/PT, and Tuesdays at 9 PM ET/PT on ABC.
Follow Sydney on Twitter: @SydneyBucksbaum
More:
'DWTS' Week 4: Aly Raisman 'Surprised' Louis van Amstel
'DWTS' Week 3: Louis van Amstel Thinks Victor Ortiz 'Redeemed Himself' 
'DWTS' Week 2: Louis van Amstel is 'Worried for D.L.' Hughley
'DWTS' Week 1: Louis van Amstel Weighs In on the Best (And Worst) Pairs 
---
From Our Partners


Stars Pose Naked for 'Allure' (Celebuzz)


Which Game of Thrones Actor Looks Least Like His Character? (Vulture)