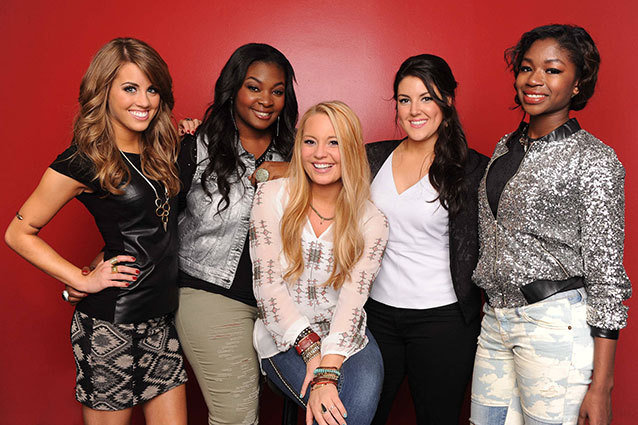 The judges' save was supposed to expire after last week's American Idol Top 6 results show, but it appears the first five eliminations of Season 12, which sent home all five boys who made the Top 10, didn't go the way producers anticipated. There's an extra week built in the schedule, presumably a failsafe in the event a powerhouse lady was sent home early.
"The save is still there," Janelle Arthur tells Hollywood.com backstage after the Top 6 performance show. "They have to use it or we would end the show a week early!"
But although Arthur is sure someone will be saved, she's not so certain it will be her. "They might be like, 'You know, Janelle, we love you, but we'd rather use the save on someone that we like better than you.' So I'm ready for whatever," she says. "I am not kidding, y'all, I am so happy to be here. So I'm hoping that if I go, they use the save, but even if they didn't I would still feel so good. I do. I just feel good here."
Finalist Angie Miller is also pretty sure no one is going home tonight. "I think that this week they would use the save. I think that there will be a Top 5 twice," she says. "But you never really know with these judges!"
Although plenty of reality show contestants are quick to say that they don't think about the outcome, that they're friends with everyone else, that they're just grateful to be here, blah blah blah (all of which the Idol girls have said at one point or another), Candice Glover admits that the Judges' Save is on the minds of the Top 5 girls.
"We talk about that all the time. We are always like, 'What do you think will happen?' We get together and have these meetings about the save. ... It's always like, 'Will they use the save? I think they will save me' or 'I hope they save me' because none of us want to be in the bottom. But if that time comes I'm going to pick my best song I ever did because they do come around and ask you what you want to sing in case you are in the bottom. You have to think, 'What if I am in the bottom?' Thursdays are always a quiet day. Except for the save meeting."
Glover contemplates whether it's too soon to sing her cover of The Cure's "Lovesong." "I don't know, I always feel I would do 'I (Who Have Nothing)' because that was a big moment. 'Lovesong' was a big moment too, but I do not want to talk about my Save Me song, you guys," she says with a laugh. "But I feel like nobody is going home [Thursday]. That's my honest opinion."
More:
'American Idol' Recap: One of These Girls is Not Like the Others
'American Idol': Nicki & Mariah Are Talking to Each Other Now
'Idol' Star Angie Miller is Singing for Boston
Follow @hijean on Twitter
---
From Our Partners


Stars Pose Naked for 'Allure' (Celebuzz)


Which Game of Thrones Actor Looks Least Like His Character? (Vulture)