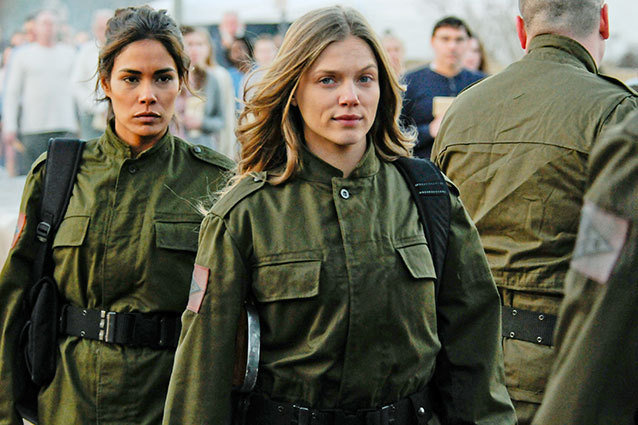 We've waited a week longer than we planned to see tonight's all-new Revolution since NBC preempted the hour last week in light of the tragic Boston Marathon bombings, and "The Night the Lights Went Out in Georgia" is worth the wait. Get ready to see a whole different world than what we - and Charlie (Tracy Spiridakos) - have been used to since the power went out.
"We get to see the Georgia Republic, and that's a different world that we haven't dabbled into," Spiridakos tells Hollywood.com. "It's a very different place than the Monroe Republic. That's what we wanted to go for, just to see the difference between the Monroe Republic and that's not the way that the entire earth is. Everybody's developed in their own ways and there's reasons for it."
Tonight is also the beginning of Charlie's journey without her mother since they said goodbye, not knowing if they'll see each other again. "Charlie's used to not being with her mom. She got her mom back and she leaves again, that's just what she knows," Spiridakos says. "I think it's a bit heartbreaking the way that it's left off, that she'll never see her again and she doesn't even get to have any hope that she'll ever see her again. But Charlie's tough enough at this point to just be able to pick it up and move forward with it with all these experiences that she's had."
Charlie won't be completely alone - she's got Miles with her as she makes her way to the Georgia Republic. "She and Miles have grown to be very close," Spiridakos says. "We help each other out. There's one episode specifically where one of them goes to a darker side and the other is the one to pull them back, so they very much rely on each other. They appreciate and respect each other and that's a huge thing."
That's certainly a big change from earlier this season when Miles and Charlie first started out. "For a long time, Charlie was just the little one running at his heels, trying to get Danny back, without really understanding the other things that were involved in it," Spiridakos says. "Now that she knows more and has experienced more, they're at a place where they're more peers than anything. They're equal, and he respects her and she respects him." 
Miles and Charlie certainly understand each other better now, especially considering Charlie's recent thirst for revenge on Monroe since the death of her brother. "Right now, she's still fighting for revenge. She wants to get back at Monroe," Spiridakos says. "Her journey will evolve and she'll go to different places. The grieving process is a funny thing and she'll go through different stages. The big question for her is will she be able to hang on to her heart and her morals throughout it all or will she lose that going forward. When there's an opportunity to jump into the revenge spot she will take it at any point in time without asking questions."
That's a tricky situation to be in, since Monroe is a dangerous man with dangerous plans. "Monroe's got power and we don't, so the stakes are automatically way higher," Spiridakos says. "But the stakes are always high. It's always a life or death situation, and Monroe has more over us than we have over him. It's always going to be an uphill climb for the rebels."
While the rebels are making their way to the Georgia Republic to seek help against Monroe, Rachel and Aaron are on their way to the mysterious tower to try and turn the power back on for everyone. "We'll see more of Rachel and Aaron's journey and what's going on with them," Spiridakos says. And as for Aaron's long-lost wife that he left back when the power first went off, get ready to see her reunited with him in present day. "It is soon. I love that story," Spiridakos says. "Someone said that it was such a coward thing of him to leave his wife. But I think that when you love somebody enough, sometimes you make choices that you think is the best choice for them, whereas an outsider has a very different opinion. I think that Aaron very much loves Priscilla and made that choice to leave her for her own good, feeling that he was holding her back. I'm excited to see that play out."
Revolution airs on Mondays at 10 PM ET/PT on NBC.
Follow Sydney on Twitter: @SydneyBucksbaum
More:
'Revolution' Star Tracy Spiridakos is Happy NBC Postponed This Week's Episode
'Revolution': We'll Find Out Why the Power Went Out 'Shockingly Soon'
The Ultimate Journey for Revenge on 'Revolution' 
---
From Our Partners


Stars Pose Naked for 'Allure' (Celebuzz)


Which Game of Thrones Actor Looks Least Like His Character? (Vulture)