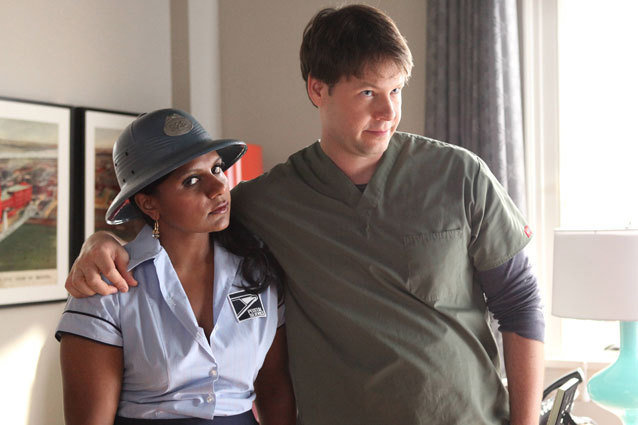 If for nothing more than the theme song alone (wherein we experienced all of the guffaws), The Mindy Project's surprisingly named new web series, The Morgan Project, is a delight. How is it that Dr. Mindy Lahiri has a whole television series about her unending quest for love with such a paramour professional so close by? We had no idea sweet, sweet murse (that's male nurse) Morgan Tookers had all the right moves when it comes to wining and dining the ladies. Well, if you replace "all the right moves" with "every single wrong idea about dating, maybe ever."
The Fox sitcom's cuddly comedic darling has gotten his own web series, and, well — it's actually sort of charming! At least after episode one (which premiered today on TVLine). The quickie video has everything you dig about the relationships on The Mindy Project: quippy banter, conversations that bounce between offended and intruiged, Betsy saying weird stuff, the perma-confused but perma-handsome face of Ed Weeks (Dr. Reed), and that seemingly human-esque puppy, Ike Barinholtz— also known as our title character.
Will Morgan ever find love? Can Beverly go five seconds without saying something offensive? Are Betsy and Morgan actually a secretly-perfect match-made-in-kookyheaven? (Our thought: maybe yes.) Check out the first episode, below.
Follow @AliciaLutes on Twitter
More:
The Dos and Don'ts of Dating from 'The Mindy Project': When It's Business Time
The Dos and Don'ts of Dating from 'The Mindy Project': If He's a Male Prostitute
The Dos and Don'ts of Dating from 'The Mindy Project': If He's a Cool Christian 'Workaholic'
---
From Our Partners


Stars Pose Naked for 'Allure' (Celebuzz)


50 Worst Celeb Mugshot Fails (vh1)