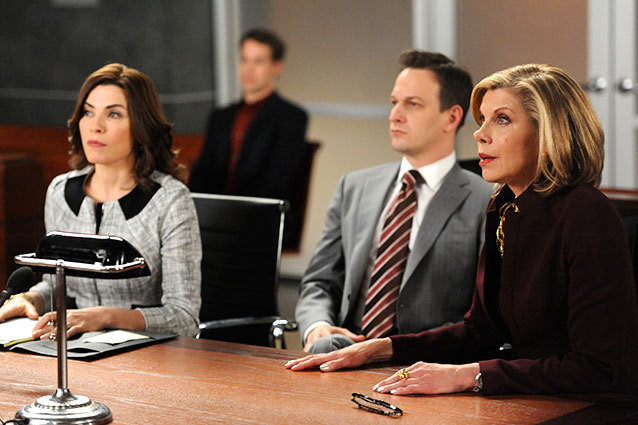 The last ten seconds of the season finale of The Good Wife were some of the best of the season. Actually, the whole series. (And, yes, I'm going to talk about what happened at the end of the episode, so if it's collecting dust in your DVR, stop what you are doing right now and go watch it or, you know, keep reading and spoil it. You're an adult. You can make your own decision). Just when you think that Alicia is finally going to get it on with Will and they are going live happily ever after in complicated romance, another man came a-courting. It was Cary. And Alicia joined his start up firm and is taking her clients with her. Say what?!?
The first thought that ran through everyone's mind was, "What are they going to do about next season?" Yes, Alicia is going to be at Florrick, Agos, and Associates and Lockhard/Gardiner is going to be, what? Who knows! Well, I have a radical idea. Fire them. Fire all the actors. After all, this show is called The Good Wife, not All the People A Good Wife Works With. 
Bear with me on this, but hasn't everyone out there left a job to take a new one? What happened? You might be working with an old coworker or two and you might take an underling along with you, but everything at your old job just sort of, well, it goes away. You run into those people now and again, but you aren't involved with them like you used to be because your'e so focused on making your new gig work. Why not do that to this show? Everyone who isn't at the new firm should get a big demotion.
Why should they all be full-time cast members? We'll have Alicia and Cary starting their new firm with a bunch of old clients and, most likely, facing all the same lawyers and being ruled on by all the same judges so we'll get to see all of our favorite guest stars. Peter will be in the governor's seat with Eli by his side and Alicia will still be raising his kids, so they'll all be around. And hopefully we'll get to know some new characters, some of the other lawyers and the new clients and associates at the firm. Think of all the fun stories! Think of all the personality clashes! It's going to be exciting just like, well, starting a new job. 
As far as the people at the old firm go, I hate to say it, but The Good Wife will be losing so much dead weight. Will and Alicia's will they or won't they seems to have been decided once and for all (they won't). Bye Will! Diane is going to be a Supreme Court Judge. Bye Diane! David Lee is just an annoying pain in the neck and will be much better as Alicia's opponent than her ally. Bye David Lee. See you in court! We know all of Kalinda's secrets, so what is left there? Bye Kalinda! Oh, who are we kidding. She'll come running to Alicia's side in no time. 
What would be really awful is if the show pulled a Glee and starts following both the new firm and the old one just like everyone's least favorite singing show follows some characters in New York and some in Ohio. Even worse would be if they set out on this new firm and end up back at Lockhart/Gardiner before the midway break in the season. We need this decision to have consequences. If not, everything Alicia does from here on out will just be easily corrected by the writers whims. With that final decision she seems to be wanting a different direction for her life, wouldn't it be great for the show to have a different direction as well? I couldn't be more excited. 
Follow Brian Moylan on Twitter @BrianJMoylan
More:
'The Good Wife' Is Suddenly The Gayest Show on TV
'The Good Wife' Adds Nathan Lane to Star-Studded Line-Up
Michael J Fox Returns to 'The Good Wife'
---
From Our Partners:


Miley Goes Braless for Magazine Cover (Celebuzz)


33 Child Stars: Where Are They Now? (Celebuzz)