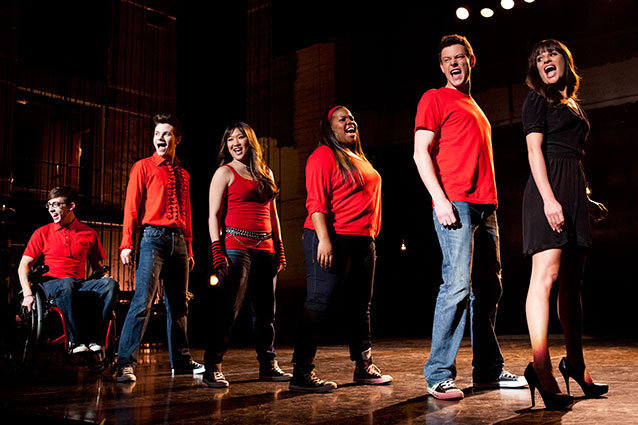 Season 4 of Glee has been a whirlwind of break-ups and shake-ups, but unfortunately there haven't been any make-ups. (Yet!) But even with all these ups and downs, there's one thing we can all agree on: the musical performances have never been better! Seriously. 
It's hard to believe there's only one episode left in the season. After all, it seems like it was only yesterday that Rachel was NYADA slapped with the nickname of "Little Miss David Schwimmer" or Marley made her sweetly naïve debut in the McKinley Halls. Now 21 episodes later, we're sad to say goodbye, but of course — since this is Glee we're talking about here — we're going to bid adieu in the most musical way possible.
We've gathered up the top ten most toe-tapping, tear-jerking and jaw-dropping songs of Season 4 and wrapped them together with a big glittery bow. From heartfelt ballads to energetic group numbers to emotional acoustic renditions, the cast of the chart-topping series has given faithful Glee fans some truly phenomenal performances this year.
These ten songs are the best of the best and we found it absolutely impossible to rank them on a scale of incredible to amazing — so just think of this as a ten-way Season 4 tie. Did you favorite song make the cut? Reminisce through all the Glee greatness to find out!
"The Scientist" — Finn, Rachel, Kurt, Blaine, Santana, Brittany, Will, Emma: If the first 45 minutes of "The Break Up" didn't have you blubbering like a baby, then this Coldplay cover definitely pushed you over the edge. All four relationships were left hanging in the balance in this hauntingly simple performance and of course, the flashbacks to their beginning of each of their relationships were, and still are beautifully heartbreaking.
"Girl on Fire" — Santana: We watched Santana shimmy and shake with her college cheerleading team, but every gleek knew that she was capable of so much more — and then this fiercely phenomenal song happened. It was empowering to watch Santana finally follow her dreams to New York and dare we say it? Santana blew Alicia Keys out of the water!
"This is The New Year" — New Directions: This performance is the epitome of Glee: it's catchy, fun, cheerful, silly, and, honestly, it just makes you smile. In this A Great Big World rendition everyone looks incredible, sounds wonderful and hearing the a capella beginning is giving us mini Warbler flashbacks. Plus, Lord Tubbington makes a small cameo! It's impossible not to fall head over heels for that fat little face.
"We've Got Tonight' — Finn and Rachel: After one of the most adorable scenes to ever be recorded in Glee history — ahem, yes we're talking about the Flower scene — Finchel fans practically exploded from excitement during this duet. Not only is this Valentine's Day duet special for those who are singing it, this song brought many couples (old and new) together. And of course watching Finn and Rachel reconnect while singing the Bob Seger love song was just too adorable for words.
"Let Me Love You" — Jake: This stripped down version of Ne-Yo's "Let me Love You" is spectacular and it transformed into a quintessential love song. The room may be filled with people, but it's clear that Jake is pouring her heart into this song for only one person: Marley. His voice will gently and sweetly blow your mind and then make you kind of depressed because you know that no one that attractive and sweet is going to sing a ballad for you in a high school glee club. Sigh.
NEXT: Five More Incredible Glee Songs from Season 4 and Honorable Mentions!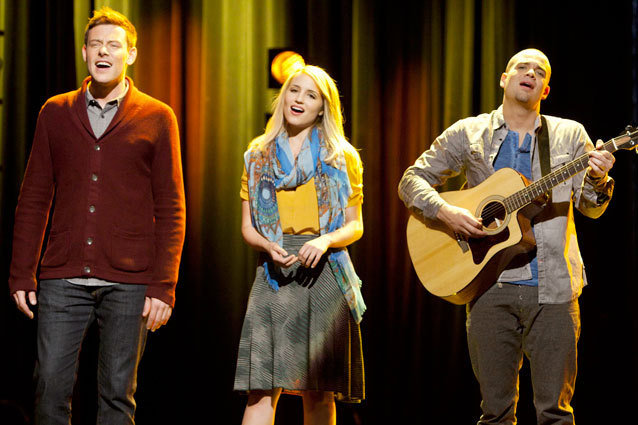 "At The Ballet" — Santana, Isabelle, Rachel Kurt: This song is without a doubt, one hundred percent, absolutely gorgeous. We're already well aware of Santana, Kurt and Rachel's mesmerizing voices so it's lovely to hear Sarah Jessica Parker keeping up with our talented trio. From the gorgeous ballerinas dancing in the background to the flashbacks of out tiny dancers, Glee certainly succeeded with this song from A Chorus Line. Now please excuse us while we re-listen to this Broadway classic over and over again.
"Homeward Bound/Home" — Quinn, Puck, Mike, Santana, Mercedes, and Finn: What can we say? It should be painstakingly obvious as to why this song made the top ten. Watching this Thanksgiving reunion between six of the original New Directions made us incredibly nostalgic for the good 'ol days of Glee. Their voices were pure, the story lines were exciting, and the characters were people that we truly cared about. Plus this mash-up between Simon & Garnfunkel and Phillip Phillips is just lovely.
"Mine" — Santana: If you didn't shed a tear during this performance then I'm not sure that you have a soul. Harsh, but oh-so true. Santana's rendition of Taylor Swift's "Mine" is incredibly moving, chilling, and above all simply lovely. Using only the emotions on her face, she is able to express deep feelings of angst, compassion, and love to the audience all while singing flawlessly. It's breathtakingly perfect.
"Don't Dream It's Over" — New Directions: Watching the new New Directions come together and sing this Crowded House song in the snowy quad was inspiring. This song is already fantastic but when you add in snow, and cute winter clothes, and the glee club declaring their allegiance together, it's enough to melt even the coldest of hearts.
"Don't Stop Believin'" — Rachel: This song has become the heart and soul of Glee and the fact that these familiar lyrics were accompanied with pilot fantasies makes it even more exciting. This is the third time that Glee featured this Journey classic and clearly third time's the charm. Rachel really transformed this song and made it her own and watching that the original 5 glee clubbers back her up in spirit made any true Glee fan a little teary-eyed.
Honorable Mentions:
Some Nights" — New Directions: The newbies got their time to shine.
"Next to Me" — Rachel and Shelby: The best mother/daughter duet to date.
"Shout" — New Directions: It was their 500th song!
What was your absolute favorite song from Glee's fourth season? Are there any performances you think should've made the cut? 
The Season 4 finale of Glee airs on Thursday on Fox at 9 PM. 
Follow Leanne on Twitter @LeanneAguilera
More:
'Glee' Recap: Remission, Permission And Preparing For The Audition
'Glee' Recap: 'Lights Out' In Lima While Nyc Shines Bright
'Glee' First Listen: The Songs (and Scoop!) From 'Shooting Star'
---
From Our Partners:


Watch Justin Bieber Attacked in Dubai (Celebuzz)


33 Child Stars: Where Are They Now? (Celebuzz)