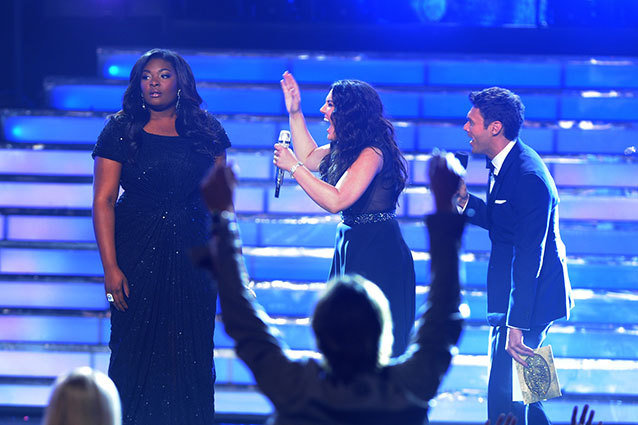 Candice Glover can barely remember her name right now, let alone comprehend the fact that after three seasons of hard work, she just won American Idol — the first female winner in five years. "I don't remember [Ryan Seacrest] saying my name," she tells reporters at the Nokia Theatre following her win. "I do remember [hitting] my mouth while I was singing. I wanted to laugh but I was crying, and there was just so much happening in that one moment but it felt great."
For the first time in Idol history, Glover will have to turn around an entire album in just six weeks. Glover says the only track she's recorded so far is her coronation single, the inspirational ballad "I Am Beautiful." "The only song that I've recorded is one that I performed when I won the show," says a beaming Glover, catching herself as she tries to process her win. "My gosh, what am I saying?"
Glover really connected with the song, though — especially its positive message. "When I first heard the song I was actually in tears because I could connect with the song so much. It's not only about a girl who's been done wrong by her ex-boyfriend, it's also about like with me, being attacked all the time and being told that you're not good enough or you're not as pretty as you should be. I think that that song is a message to everybody who ever said that to me as well as all these girls who are growing up and feeling like they're not beautiful."
The South Carolina native has taken that message to heart throughout her third year on Idol. "I've definitely learned how to be confident and how to be myself and to be okay with who I am," she says. "In previous seasons I was doing what I thought America wanted or what the judges or whoever wanted, but this year I just did whatever I wanted to do."
More:
And the 'American Idol' Winner Is...
Nicki Minaj Won't Confirm 'American Idol' Departure
Kree and Candice on their Potential 'Idol' Singles
Follow Jean on Twitter @hijean
---
From Our Partners:


Watch Justin Bieber Attacked in Dubai (Celebuzz)


33 Child Stars: Where Are They Now? (Celebuzz)