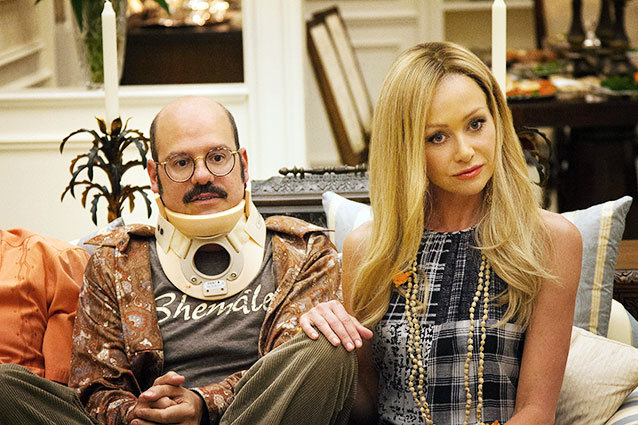 Arrested Development creator Mitch Hurwitz obviously hasn't forgotten the importance of leaving notes. He's just left a big one for fans about how to watch Season 4's 15 episodes, debuting on Netflix May 26: don't "binge watch" and do be sure to view the new installments in order. "Don't feel obligated to watch it all at once," Hurwitz tells Vulture. "It's a comedy! It's not like Lord of the Rings. Comedy takes a lot out of you." 
Pacing the episodes be difficult for Arrested Development fans who've waited seven years to catch up with the Bluths and their quirky galaxy of banana stands, blue men, man-eating seals, never-nudes, maritime law, and $4,000 suits. But Hurwitz argues that binge-watching all seven-and-a-half hours of the new season will take its toll: "You can't take it all in at once. It's like the selective-attention test. The whole show is like the selective-attention test. No one sees the gorilla! I'll give you an example: When I was at the last sound mix with our editors and there was one of our bigger sight gags in the background of one of our more absurd conversations, nobody saw the sight gag, including me. And all we were doing is staring at the screen!"
After the initial announcement of the new season on Netflix, Hurwitz repeatedly said that, since the episodes would be released simultaneously, they could be watched in any order. Now he's changed his mind. "Not only will the episodes be available at the same time on Netflix, but they also cover the same period of time in the characters' lives," Hurwitz says. "So it seemed like, yeah, you should be able to jump in in any order and see George Michael's episode and then maybe Buster's episode, if you want, and see what each of them is doing."
But after watching all the episodes, he realized that for Arrested Development's trademark running gags and callbacks to work properly they had to be viewed in a specific order.  A callback, say, to something Gob does in an earlier episode will make more sense... if you've already watched that earlier episode. "We'll see Gob in a scene in George Sr.'s story, but we won't really know much about him because we're following George Sr. So later, when you get to see that scene again and you get to see Gob in that new context, you realize, 'Oh, he had more of an agenda than I realized.' That's the fun of it, I think. It's really just a different way at getting depth of character." 
Follow Christian Blauvelt on Twitter @Ctblauvelt and follow Hollywood.com @Hollywood_com
More:
'Arrested Development' Season 4 Trailer: Can Somebody Explain All the Birds?
20 Running Jokes From 'Arrested Development' We Hope Keep Running
Take Our 'Arrested Development' Trivia Quiz!
---
From Our Partners:


Zoe Saldana Strips Down For Magazine (Celebuzz)


33 Child Stars: Where Are They Now? (Celebuzz)