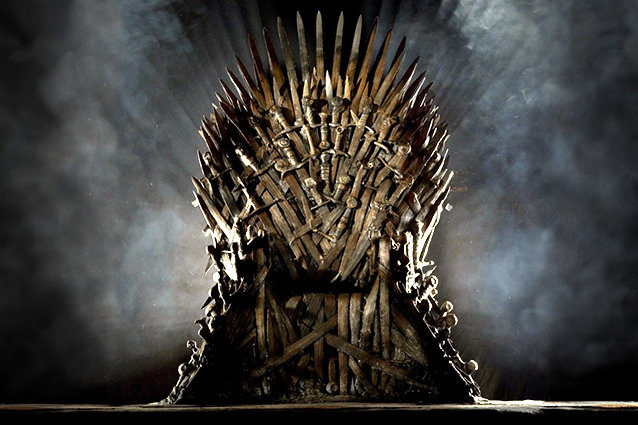 Just when we thought George R. R. Martin's imagination couldn't get any crazier, he went ahead and clarified just how insane and grandiose his brain truly is. The mastermind behind the book series that inspired Game of Thrones has taken to blogging once again. This time, the A Song of Fire and Ice author is voicing his dissatisfaction with HBO's rendering of the Iron Throne.
The custom-made seat for the king of the Seven Kingdoms is a cold, hard throne, forged from the thousands of swords of King Aegon Targaryen's fallen enemies. But apparently, the hulking Iron Throne we see on screen is not up to par with Martin's standards. The author posted the following note on his Live Journal on Monday night:
"The HBO throne has become iconic. And well it might. It's a terrific design, and it has served the show very well. There are replicas and paperweights of it in three different sizes. Everyone knows it. I love it. I have all those replicas right here, sitting on my shelves.

And yet, and yet... it's still not right. It's not the Iron Throne I see when I'm working on THE WINDS OF WINTER. It's not the Iron Throne I want my readers to see. The way the throne is described in the books... HUGE, hulking, black and twisted, with the steep iron stairs in front, the high seat from which the king looks DOWN on everyone in the court... my throne is a hunched beast looming over the throne room, ugly and assymetric... 

The HBO throne is none of those things. It's big, yes, but not nearly as big as the one described in the novels. And for good reason. We have a huge throne room set in Belfast, but not nearly huge enough to hold the Iron Throne as I painted it. For that we'd need something much bigger, more like the interior of St. Paul's Cathedral or Westminster Abbey, and no set has that much room. The Book Version of the Iron Throne would not even fit through the doors of the Paint Hall."
The author went on to post an image that he feels best fits his vision of the Iron Throne. The picture is a painting by Marc Simonetti (see more of his fantastic work here), and it sure makes HBO's throne look like a Fisher-Price toddler chair. Check it out: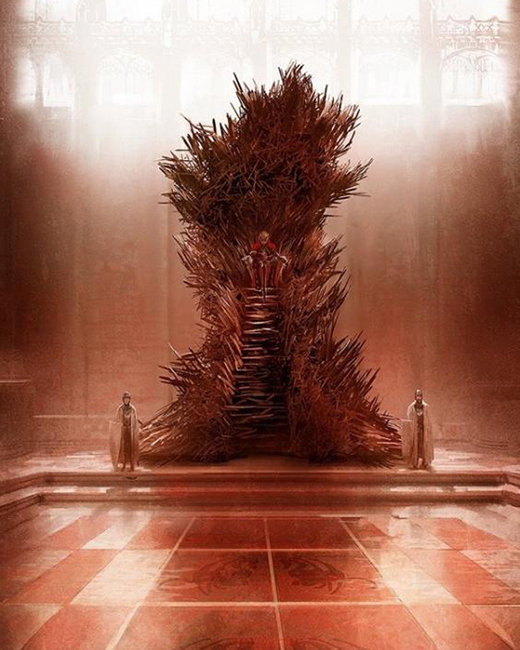 Well, we still thought that the HBO throne was pretty intimidating, but it seems that George R. R. Martin is taking a page from Ygritte and telling us, "You know nothing." It's about time we realize that our greatest fears don't hold a candle to the terrifying, larger than life monsters brewing inside this author's head. This is not the first and certainly won't be the last time we say this but: Really, George R. R. Martin?!
Follow Caroline On Twitter @Carolinesb | Follow Hollywood.Com On Twitter @Hollywood_com
More:
'Game of Thrones' Recap: Mhysa 
'Game of Thrones' Recap: The Rains of Castamere 
'Game of Thrones' Recap: The Down and the Dirty 
---
From Our Partners:


What Happened to 33 Child Stars (Celebuzz)


40 Most Revealing See-Through Red Carpet Looks (Vh1)