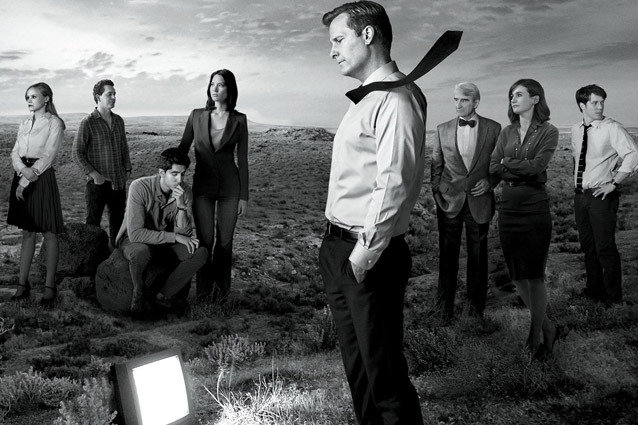 Overall this episode was much more focused than last week's and way more enjoyable to watch. Reminds me of the old episodes, hence, I don't have that much to poke fun of. 
Nailed Down the Number of Reindeer
The episode starts off with a meeting about operation Genoa, of course. My favorite highlights of the meeting:
1) The reindeer counting. Sloan you are too much.
2) The extended reindeer metaphor. All of them took this too far, but funny nonetheless. 
3)Don's pensive face and moment of silence said everything. You could tell he was rethinking every life decision that lead him to that point.  Priceless. 
Mackenzie and Charlie have a meeting with a retired general in Maryland to discuss the use of sarin gas on civilians. They arrive in style by running over the man's garbage disposal cans. Mac attributes it to sheer "regular negligence," haha. My guess is she's not used to driving on the left side of the road. This guy is also a total basket case. 
I Loathe You In Ways That Are Unquantifiable
This dinner is the worst double date and in this case a 5th wheel in history. Poor Jim can't get a break! Taylor crashes  his reunion dinner with his new beau, and gets absolutely grilled. He apparently just can't live down the Sex in the City tour bus fiasco. Points for Aubrey though, she's freaking hilarious. I'm sure Neel can't believe he wasted his night on this nonsense. Especially, because Taylor is such a buzz kill and breaks the news that she just got fired. Probably because Mitt has binders of other women to choose from. 
On top of this whole ordeal, when Jim is finally a lone with Hallie she gets a call that she has to be on a plane in 90 minutes. I love Hallie (she looks exactly like Natasha McElhone from HBO's Californication), but I'm not sure yet if I love her and Jim as a couple. I'm still rooting for him and Maggie to get their act together, which at this rate looks bleak. 
Speaking of Maggie, she's already on a first name basis with her bartender. That's a surefire sign that you drink alone way too often, he also knows her drink. She then proceeds to go home with her bartender after talking to Jim in front of said bartender. Sad, sad, story. 
Don't Chicken out McAvoy
Will can't aim for his life and makes a complete fool of himself on a morning talk show by trying to make himself more likable. After that faux pa, he fires his girlfriend Nina Howard. Just when we thought he was fostering healthy relationships again! Was that actually a break up though? It was so fast I'm not sure if it even constituted as a greeting. 
Sloan is all of a sudden an expert on psychology after literally reading one page. She psycho analyzes will anyway, too funny. 
Finally, operation Genoa comes together. Jerry slams the iron fist with quite the thought provoking speech concerning war crimes in our country. The general confirms in the interview that sarin gas was used in operation Genoa. It now makes sense why the News Night team thinks they have a story, since that was the missing piece they needed to go through with the story. It's inferred from here that this is when they decide to go for it. 
Rebecca, the lawyer, looks like she wants to torch all of them for making her life so difficult. 
Follow Hollywood.com on Twitter @Hollywood_com | Follow Maité on Twitter @MaiteCubilette
More: 
'The Newsroom' Recap: News Night With Will McAvoy
'The Newsroom' Recap: Unintended Consequences 
'The Newsroom' Recap: Don Quixote Rides Again


---
From Our Partners


Stars Pose Naked for 'Allure' (Celebuzz)


20 Grisliest TV Deaths of 2012-2013 (Vulture)