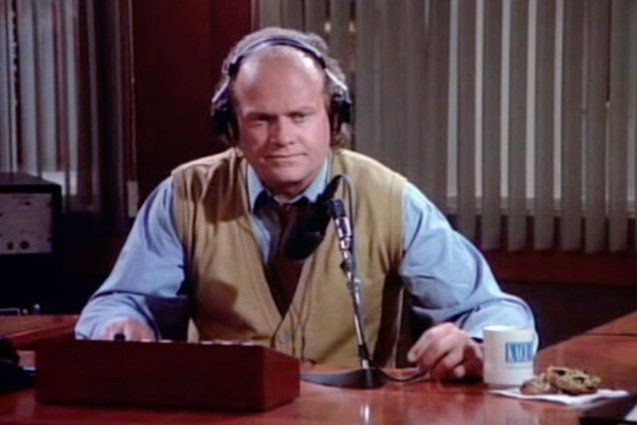 NBC
There have been countless spin offs of TV shows. Most fall by the wayside very fast (Joey) while others endure. Here's six of them that managed to climb to the top of the heap and stay there.
Frasier
Who would have thought a stuffy psychiatrist could have his own hit show? What, you were waiting for Woody? Kelsey Grammer took a character that was often not-liked on Cheers and made him a loveable neurotic mess with an equally neurotic brother. David Hyde-Pierce was a master of physical comedy and John Mahoney was perfect casting for the Crane brothers' father. Of course, we can't forget Eddie the Dog. 
The Facts of Life
Whatchoo Talking 'Bout, Willis? A show with a housekeeper from Diff'rent Strokes and a bunch of schoolgirls SUCCESSFUL? It lasted longer than many people thought it would and one of the reasons was an incredibly catchy theme song. C'mon.. I know you're singing it now. Also, bet you forgot that such stars-in-waiting like Helen Hunt an George Clooney appeared on the show.
Family Matters:
People forget that the Winslow mother was the elevator operator on Perfect Strangers. Steve Urkel came later...snort snort. Actually, Urkel was supposed to be a short time guest star, but for some reason, people liked Jaleel White's rendition of the uber-annoying nerd and he stuck around...and stuck around...and stuck around.
Benson
Robert Guillaume first appeared in Soap before this spin off. Pretty good for a butler, huh? The acerbic Benson found himself moving up the political ranks very quickly and it made for very entertaining television.
A Different World
No, this show was not something to illustrate how different Lisa Bonet's Cosby Show character was from her Wild at Heart one. She was a college student and the show was fun to watch while she was on it...then she left, of course.  
The Simpsons
D'oh. How many people forget that the characters used to appear on shorts in the Tracey Ullman Show. Oh. You remember? *steeples fingers* Excellent... It's still chugging along on FOX and I think that my grandchildren will be seeing episodes of the show that were written by Matt Groening's grandchildren. If there's topical humor to mine, this show will always dig deep. 
More:
Recognizing The Genius Of 'Bubble Boy'
20 'Star Wars' Origin Stories We'd Like To See
Pop Stars Who Need To Work On Their Sales Pitch
---
From Our Partners:


40 Most Revealing See-Through Red Carpet Looks (Vh1)


15 Stars Share Secrets of their Sex Lives (Celebuzz)