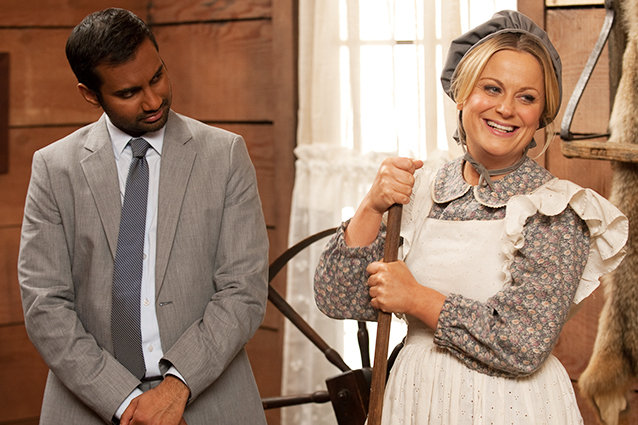 Colleen Hayes/NBC
Aziz Ansari recently announced that he will be be writing a book about technology and dating. Let's just be happy that his Parks and Recreation character -- the nasal R&B-loving, "swag"-saying Tom Haverford -- isn't writing the book. Here are a few quotes from Tom that he might have used if it were his book on romance. 
On perserverence:
"The four sweetest words in the English language — 'You wore me down.'"
On the perfect date:
"We had dinner last night and breakfast this morning. What were we doing in between? Sex stuff." 
On the female form: 
"I have no interest in art. Let me clarify: I have no interest in non-nude images."
On when to call:
"No, I don't text her, 'It was nice meeting you." I wait eight weeks and I text her, 'What's crackin?"'

On getting over a divorce:
"Yeah, I've been a little down. Totally natural. I'm getting a divorce, but now I'm ready to pull myself up by some G-strings."
On rationalization:
"I just don't get why you broke up with me. Is it 'cause I'm not cool enough, like the normal kids compared to the vampires? Is it an Edward-Bella-Jacob type situation? Where you like me but there's someone else you like more?"
On weddings:
"One of my life goals is to be a best man. It's a baller position. You get drunk, you make speeches, and you make love to the prettiest bridesmaid. Usually standing from behind."
On breakups: 
"She broke up with me. Didn't really tell me why. Luckily when you're the guy you can just tell people she's crazy. 'Hey, Tom, I heard you and Lucy broke up.' 'Yeah, man. Turns out, she's crazy.' That's what they always do on Entourage."
On loneliness:
"Modern life. Where are we running? Sometimes what we want is not always where we are… Are we alone? Is the real winter inside our hearts? We are all struggling for definition in a world that resists our increase."
On open relationships:
"Yes, I'm married. But my wife understands that a good politician has to be appealing to the ladies. The fact that I haven't even gotten close to cheating on her is a disappointment to us both."
On Twilight:
"Am I team Edward? Yes. Do I share his concerns about turning Bella, though? Absolutely not."
On deal-breakers:
"Not loving '90s R&B music is #3 on the Oh No Nos list. Girl don't even know who Ginuwine is."
On nicknames: 
"We have cookie tush, Winnie the Boo, lady presh-presh, Annberry sauce, Annie get your boo, Tommy's girl, Annie bananie…"
On spicing it up: 
"I think cave sex is insane." 
On the perfect gift:
'There isn't a woman alive who doesn't love diamonds. Even the super left-wing chicks who saw Blood Diamond and cried. When they get a diamond, they like, 'yeah, b**ch, get more of them blood diamonds. Make 'em extra bloody.'"
On sex scandals:
"I used to love Tiger Woods because he was a great champion. But after that sex scandal? The man is a god. "
On gold diggers: 
"Yeah, Jessica's a gold digger. But I'm a gold digger digger."
And, finally, some pick up lines:
"I think you sound like an angel, and everyone else sounds like demons."
"Hold on a second. Did you get your breasts done? You look amazing!"
"Hey, boo. Are you aging in reverse? 'Cause you look barely legal."
More:
'Epic' Stars Aziz Ansari And Chris O'Dowd Talk Camping With Pitbull And Words Worse Than 'Moist'
Kristen Bell Is Coming To 'Parks And Rec' As Leslie Knope's Newest Enemy
Rashida Jones And Rob Lowe Are Leaving 'Parks And Recreation'

---
From Our Partners


Stars Pose Naked for 'Allure' (Celebuzz)


20 Grisliest TV Deaths of 2012-2013 (Vulture)