Tonight all the bitchery and backstabbing come to a head on the summer finale of Pretty Little Liars. ABC Family has been teasing that some pretty big revelations are going to happen — and a huge cliffhanger that won't be resolved until PLL returns in October — including the identity of Red Coat and an answer for the long-simmering question: Is Sasha Pieterse's Ali DiLaurentis dead or alive? Well, we may have some spoilers for you.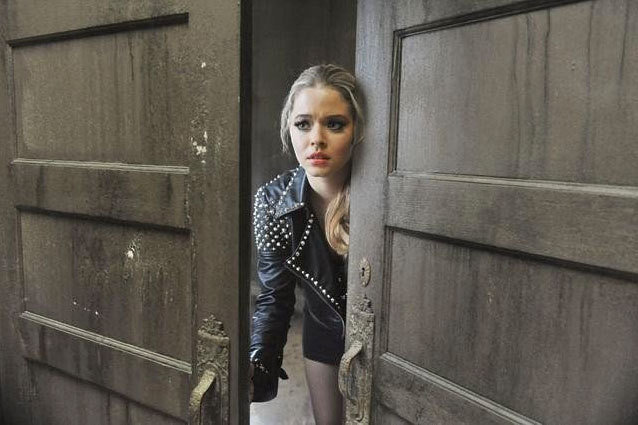 ABC Family
Pieterse spoke to E Online about tonight's finale, titled "Now You See Me, Now You Don't." But really, the episode is being informally called World War A. "It is shocking, it honestly is," she tells E!. "They're calling it World War A for a very good reason and what's cool about this season is Marlene [King] has said this is the season of answers and she is exactly right." 
As for the main question of Ali's ontological status, we're not going to find out for sure until October's Halloween episode. "You will get suspicions, if you will. A peek in the summer finale, but you will find out for sure in the Halloween episode," she says. "You find out if Alison is alive or dead and I think that is going to be a really cool thing for me and a really big treat, so I'm excited to see what the fans think of that episode."
We're also going to start learning more about the night Ali disappeared. Particularly, who she saw right before she vanished. "There are people that she saw on that night that you would never never expect," she says. "Alison had a lot of secrets of her own and she was really good at keeping them and obviously there was someone after her, or people after her and there's a reason for that. She has blackmailed so many people."
On top of everything else, you can expect to see Red Coat unmasked tonight. And there's a good chance it could be Cece Drake. "You'll definitely find out more about that in the nature of Cece and whether she's good or bad and kind of what's behind her and what's making her tick," Pieterse says. "Is she behind it all? Is she being controlled by someone? You'll definitely know very soon what is going on which is pretty spectacular."
More:
All the Dish on 'Pretty Little Liars' Spinoff 'Ravenswood'
From 'Pretty Little Liars' to 'Glee,' Here Are TV's 10 Cutest Couples
'Pretty Little Liars' Season 4 Preview
---
From Our Partners


Stars Pose Naked for 'Allure' (Celebuzz)


20 Grisliest TV Deaths of 2012-2013 (Vulture)