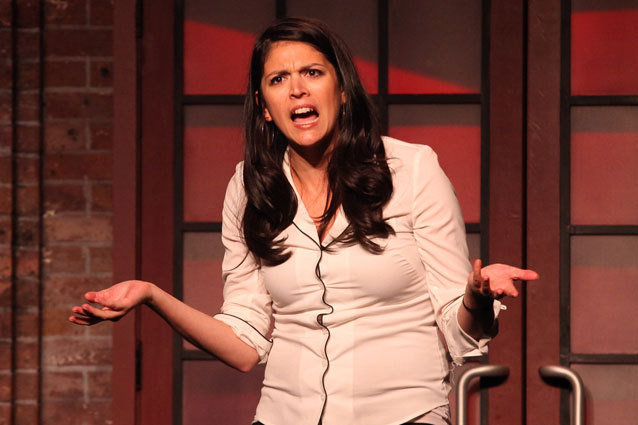 Barry Brecheisen/WireImage
Saturday Night Live fans will definitely be having a pleasant tomorrow: Cecily Strong has been announced as the new "Weekend Update" co-anchor. She will share the desk with Seth Meyers until he leaves the show in February to take over Late Night from Jimmy Fallon. It is unknown whether she will then continue to anchor the segment on her own, although SNL's creator and executive producer Lorne Michaels has suggested that he would like Meyers to stay through the end of the season. Strong started on the show last season as a Featured Player, where she quickly established a collection of popular characters including the porn star turned champagne-and-crystal-hustler with Vanessa Bayer and The Girl You Wish You Hadn't Started a Conversation With at a Party. 
Which brings us to the really important question: If Strong is going to be anchoring the desk, what will happen to The Girl You Wish You Hadn't Started a Conversation With at a Party? Will she still be around to berate Meyers to "learn a book", or declare something to be a "trajesty"? Unfortunately not. According to a tweet from Meyers, "As for The Girl You Wish You Hadn't Started a Conversation with, it's prob safe to assume that she died somewhere, mid-conversation". Strong then responded that she was "pretty sure she joined a cult." Wherever she ended up, it's safe to say that she's still lecturing people about how society is angry - and sometimes, not angry enough. 
Other cast shake-ups ahead of the new season include moving Tim Robinson, a Featured Player who started last season with Strong, to the writing staff and adding six new cast members - Beck Bennett, John Milhiser, Kyle Mooney, Mike O'Brien, Noël Wells & Brooks Wheelan. O'Brien was also a writer for the show, and host of the webseries "7 Minutes in Heaven", where he interviews celebrities in a closet. Saturday Night Live's new season will premiere on September 28, with host Tina Fey. 
More: 
Tina Fey and Miley Cyrus to Host 'SNL' This Season
Jason Sudeikis Has Officially Left 'Saturday Night Live'
Bill Hader's 5 Greatest 'SNL' Moments
Follow @hollywood_com
---
From Our Partners
From Our Partners:


A Complete History Of Twerking (1993-2013) (Vh1)


20 Grisliest TV Deaths of 2012-2013 (Vulture)