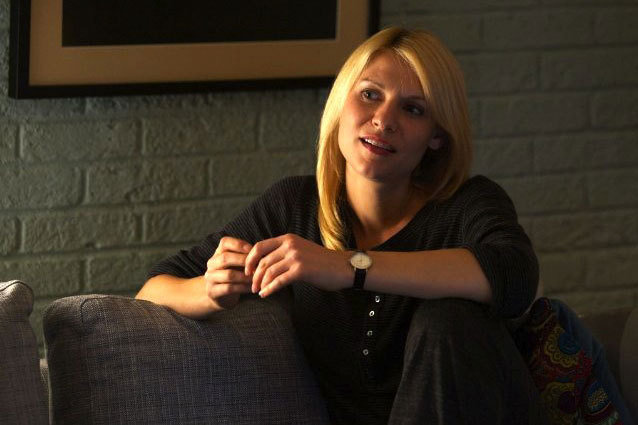 Showtime
"Homeland: The Musical," a parody from Above Average's Eliot's Sketchpad, lets us laugh at just how ridiculous Showtime's Homeland can be — and just in time for the premiere of Season 3 on Sept. 29. We all know about Claire Danes' crying face, but what about Saul's stink-eye and Brody's vanishing son (what's his name?) who is mysteriously never around?
Above Average, Broadway Video's newest venture for featuring original short form comedy, has successfully brought to light the humor of the spy/terrorism-drama-turned-love-story. And the description of the character line-up is top-notch: "From Carrie to Brody, Saul to Abu Nazir, the gang's all here — including pouty teenager, Dana." (Can we all just agree that Dana's teen angst sucks?)
Check out some of the songs featured in the video below:
1. "Fugue for Terrorists" with lyrics such as "I've got the guy right here/ His name's Abu Nazir/ And if the bomb goes off/ We'll all commandeer."
2. "Carries Lament" with lyrics like "His wife may be smokin' hot/ But he's a fan of what I've got." (Does anyone else think that the woman who plays Carrie totally looks like Topanga from Boy Meets World?)
3. (My personal favorite song) "Smile for Me, Dana" with Brody singing "Won't you please smile for me Dana?" and "I may be a decorated jarhead/ Still you look like you're eating a warhead." (Okay, now who thinks the woman playing Dana looks like Natalie Portman? It's like doppelganger heaven over here.)
4. "Don't Get Saul Berenson Mad" with the lyrics "When I speak, it's a whisper/ You'll get lost in my whiskers." (Mandy Patinkin's beard is one of the most impressive aspects of the show.)
5. "Always In My Heart," a duet with Brody and Carrie with the lyrics "Star-crossed lovers, ships in the night/ We're both kind of nuts, that's what makes it so right."

More:
Watch New 'Homeland' Season 3 Trailer
'Homeland' Season 3 Premiere Leaks Online
Fall TV Preview: Returning Dramas We Can't Wait to Watch
Follow @CaseyRackham
Follow @hollywood_com
---
From Our Partners:

A Complete History Of Twerking (1993-2013) (Vh1)


20 Grisliest TV Deaths of 2012-2013 (Vulture)