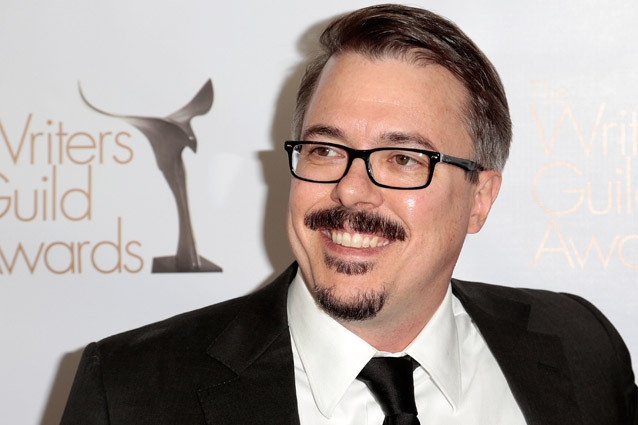 WENN
Even though the Hollywood community has just finished heaving heavy golden statues at him, Vince Gilligan, creator of Breaking Bad,  is still not done with television. Gilligan's upcoming series Battle Creek was picked up by CBS for the 2014-'15 television season. Battle Creek will focus on a pair of Michigan detectives with different methods of crime solving that must work together. House creator David Shore will serve as the showrunner of the new 13-part series, while both he and Gilligan will play executive producers. While it's fantastic news that Gilligan will keep his brilliant mind in the world of television, and it's nice to hear that Shore will return to our living rooms with a new project, these two creative forces have ideas that mesh about as peacefully as a nitroglycerin-powered Shake Weight. With the wild unpredictability of Breaking Bad, and the comforting assurance that Dr. House will find the cure just in time for the end credits in House, a combination of their efforts might have resulted in something like this...
Vince Gilligan: "Okay, so I have this idea for a show where the main guy is a high school teacher who is diagnosed with cancer and decides to cook meth to provide for his family."
David Shore: "I like it! And then a roguish British doctor sees a half-filled glass of water sitting on a table, which gives him an epiphany where he realizes that the cancer is really a rare African blood disease that can be cured by applying eucalyptus sap to the infected area?"
Vince Gilligan: "Um... let's come back to that. So how about later on, the teacher poisons a kid with Lily of the Valley, putting him in the hospital, and blames it on a rival drug dealer."
David Shore: "But then the hospital doctor — still roguish — sees a can-opener sitting on a table and determines the type of poison and where it came from. Then this doctor breaks into the teacher's house, like any doctor would do (I'm pretty sure it's in the Hippocratic Oath), and finds the Lily of the Valley plant to implicates the real criminal."
Vince Gilligan: "Well... that's an idea. So how about we have this DEA agent that gets gravely injured by a pair of sociopathic twin hitmen in a shooting that nearly paralyzes him?"
David Shore: "But then the agent's doctor sees a maple leaf blowing in the wind and learns the trajectory of the bullets fired! Using this information, he determines the motives of everyone even tangentially involved in the shooting, figuring out that the DEA agent's paralysis is just a moderate head cold right before other doctors operate on him."
Vince Gilligan: "You know what? How about we each do our own shows for a while and then regroup on this thing called Battle Creek in a couple years?"
David Shore: "Sounds great. If you need me, I'll be rolling around in syndication money."
More:
'Breaking Bad' Recap: Granite State
Aaron Paul Channels His Inner Walt in 'Need for Speed'
Five Horrible Ways Breaking Bad Could End
---
From Our Partners:


A Complete History Of Twerking (1993-2013) (Vh1)


20 Grisliest TV Deaths of 2012-2013 (Vulture)