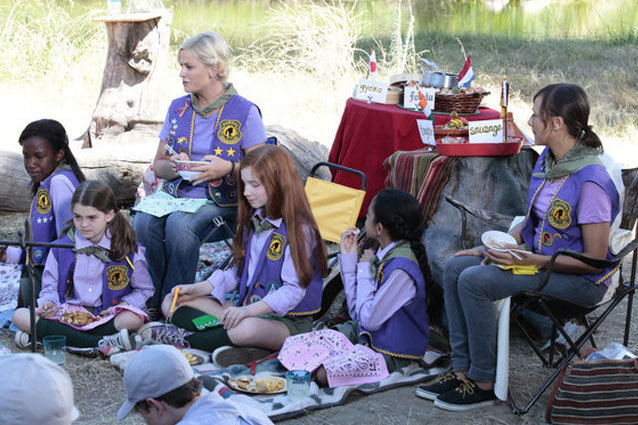 Chris Haston/NBC
Being a joiner is usually considered pretty square, but not when it comes to these groups. From high-minded cultural commentary to conspiracy theories to sexy pretend law enforcement — whatever your interests or skills, we've got a TV club you'll just be dying to get into.
The Office — Finer Things Club
Before it was broken up by the same office politics it was created to avoid, the Finer Things Club, founded by Pam, Toby, and Oscar, was the "most exclusive club" at Dunder Mifflin. "Naturally, it's where I need to be," says Andy. "The Party Planning Committee is my backup and Kevin's band is my safety."
The X-Files — The Lone Gunmen
Less a club and more of a secret office for conspiracy-obsessed tech nerds, The Lone Gunmen were still beyond cool because they got to hang out with glamorous FBI Agents Mulder and Scully.
Rob Dyrdek's Fantasy Factory
Spending your days cavorting around a giant warehouse turned adult amusement park with X-Games legends and too many celebrities to count? And it's REAL? Where's the membership application?
The Babysitters Club
It was every girl's dream to be a part of "Kristy's Great Idea." The Babysitters were a team of tween best friends who endured all their G-rated coming-of-age issues together, while simultaneously holding down what seemed to be full-time jobs caring for all the children of their entire town.  
Parks and Recreation — The Pawnee Goddesses
The Pawnee goddesses get to camp, craft ("Look — I made a Gertrude stein!"), and talk female empowerment with Pawnee's most inspirational civil servant, Leslie Knope. Failing that, can we get in on Tom and Donna's annual "Treat Yo'self Day"?
The Simpsons — The Stonecutters
It's not all human sacrifices at these secret meetings of the most powerful men in Springfield. Sometimes there's a really catchy production number.