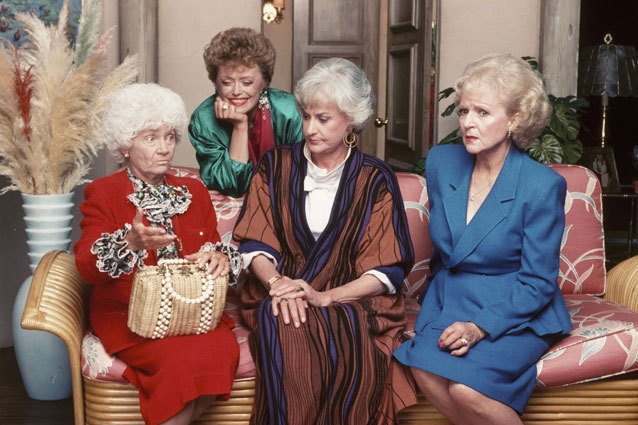 NBC
What will happen when four becomes none? That's the sad inevitability that will occur when Betty White passes, since she is the last surviving Golden Girl following the deaths of Bea Arthur, Rue McClanahan and Estelle Getty. Of course, Hollywood, which is known for being such a sentimental place, may have a schmaltzy tribute for the life of White. She'll certainly get a good long remembrance at the Emmys - I'm thinking that at least one of the Hot In Cleveland cast would go up and talk, or maybe even Mary Tyler Moore. Then they might go about doing a reboot of The Golden Girls.
Hey, it's not out of the realm of possibility. Please put down your Sophia Petrillo coffee mug. It wouldn't be instantaneous, Maybe a few years or so down the road. They'd be thinking about how a more modern version of the show might play...see how Dorothy, Rose, Blanche and Sophia handle a new world with smartphones and the Internet. They might even make a movie. Look at 21 Jump Street. They made a movie of that and all the principal actors from the TV show are alive! Of course, they changed some of the premise and basically had a whole different type of plot and vibe with the name 21 Jump Street plastered on it.
It could be decades, actually, since older shows always seem to get a re-imagining. Look at The Transformers, Garfield, and The Smurfs now. Those were hit shows in the '80s and they have all had the movie treatment fairly recently. Once Lifetime and all the other channels finally stop showing Golden Girls re-runs in syndication and the show fades from people's minds, maybe my son will take a date to see this Golden Girls movie (he's 3 now, so you imagine the time frame here).
I'd love for the faces of Arthur, McClanahan, Getty and White to be associated with this show forever, but it wouldn't surprise me to see a film version with the four women somehow wackily becoming drug mules for Walter White or something like that.
More:
Julianne Moore Talks 'Don Juan'
The Best TV Clubs
5 Tracks You Need To Hear This Week
---
From Our Partners:


40 Most Revealing See-Through Red Carpet Looks (Vh1)


15 Stars Share Secrets of their Sex Lives (Celebuzz)
---