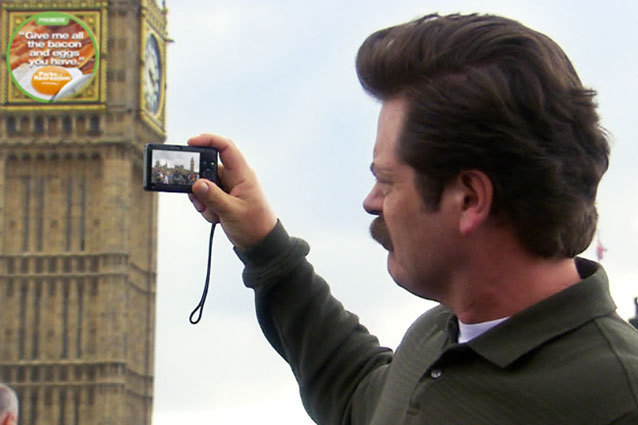 NBC
When we found out that Parks and Recreation would be heading to London, our minds first went to how Ron Swanson (Nick Offerman) would be able to handle the continent of socialism and baguettes. He took it in stride – perhaps his new marriage has made him chill out a little bit – but he had a few biting things to say about Europe, Europeans, socialism, and British currency. Here are the harshest things he said about Europe on his voyage.
On European history: 
"History began on July 4th, 1776. Everything before that was a mistake." 
On why he made the voyage over the Atlantic: 
"Diane suggested we tag along to London for a honeymoon. I agreed because my love for her trumps my hatred of Europe."
On Big Ben: 
"Look, a clock. We don't have that in America." 
On the Tower of London: 
"You call that a tower? Try the Sears Tower, friend." 
In response to a clerk who wouldn't accept his U.S dollar: 
"Of course you do. That's the most wonderful piece of paper in the world. Accept it." 
On the British royal family: 
"Enjoy the fact that your royal overlords are a frail old woman and a tiny baby."
On European air: 
"I thought you needed some fresh air, even if that air is filled with the foul stench of European socialism." 
Advice to Leslie: 
"Leslie, I can't believe I'm saying this, but I do not think you should leave Europe right now."
On the length of his vacation: 
"A train ticket? You think I want to extend my stay on this godforsaken continent?"
On British hospitality: 
"I would offer to buy you a drink but where the hell would that even happen?"
And finally: 
"All my life I've avoided Europe and its multitudes of terribleness."
More: 
'Parks And Recreation': How To Write Off Ann And Chris
'Parks And Recreation' Recap: "London"
'Parks And Recreation' Season 5 Gag Reel — The Best Bits

---
From Our Partners


Stars Pose Naked for 'Allure' (Celebuzz)


20 Grisliest TV Deaths of 2012-2013 (Vulture)