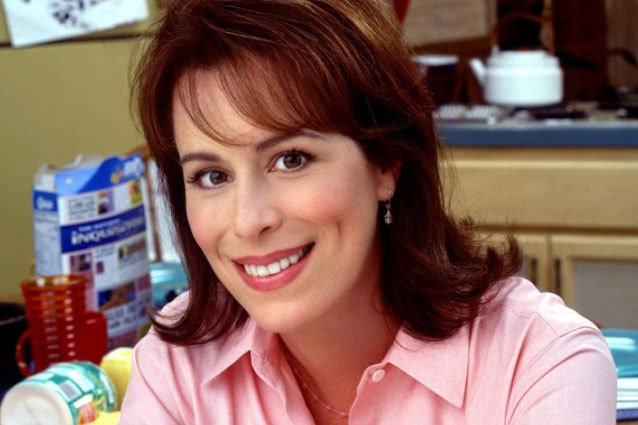 After the Internet went wild with predictions about the Breaking Bad finale, we thought we'd riff on one of our favorite theories. Fans were hoping that by some stretch of Vince Gilligan's imagination, Walt would be put into witness protection and become Hal on Malcolm in the Middle. This made us ponder how Lois (played by the incomparable Jane Kaczmarek), Hal's infamously intimidating wife and strict mother to four boys, would have put up with all of Heisenberg's b.s. The short answer is: she wouldn't. But let's explore this hypothetical crossbreeding of television further. Here's how we think Breaking Bad would have gone down if Walt had been married to Lois.
Walt's Little Meth Empire
Lois would be livid if she found out her husband was moonlighting as a meth cook. Unlike Skyler, Lois would have fished the truth out of Walt by the end of episode two of the first season. And she would have given him an earful and forced him to give back any money he had made. Like Lois tells her eldest son on Malcolm in the Middle, she'd say the same to Walt during his mid-life crisis, "Your boss is an idiot, your co-workers are incompetent, and you are underappreciated. Welcome to the working world." In other words, "Get over yourself."
Krazy 8
Once Lois finds Krazy 8 chained up in their basement, which she would intimidate Walt into telling her immediately, she would have made him clean up the basement before calling his mother and sending him home.
Tuco
During Walt and Jesse's captivity at the hands of Tuco, Lois would have found his number somehow, and the first words out of her mouth would have been, "Now you listen to me, mister." Within the hour, Tuco would have hand-delivered Walt and Jesse to their homes.
Speaking of Jesse
Lois would have very little patience for Jesse Pinkman. Not only would she have lectured his ear off on the dangers of using drugs, she would have enrolled him in rehab and community college, which he would have to pay for himself by getting a part-time job, of course. He would also have to attend mandatory family dinners at her house, so he could report his progress to her and Walt.
Bogdan
Interestingly, Lois comforts Malcolm after he gets made fun of by another kid, "Any kid who makes fun of you is a creepy little loser who'll end up working in a car wash." Well, if she were on Breaking Bad, she would say the same to Walt, and she'd be right. Bogdan would never act condescending towards Walt knowing that he has a wife like Lois.
Gus Fring
Gus was a respected, civilized, and reasonable man . . . until he meets Lois. After meeting her, he goes and kills Victor for no reason.
Todd
Lois would have made Todd drop his sociopath act in a heartbeat, or more like an ear pinch. She's raised four often sociopathic boys, so she's got no time for his creepy antics.
Lydia
We imagine her showdown with Lydia would look something like this:
Walt Jr.
Lois would tell Junior one thing: "Stop trying to make Flynn happen."
More:
'Breaking Bad' Receives Astronomical Ratings
'Breaking Bad' Easter Eggs Give Fans Something to Chew On
Anti-Heroes Survive in a Post-'Breaking Bad' World
---
From Our Partners:


40 Most Revealing See-Through Red Carpet Looks (Vh1)


15 Stars Share Secrets of their Sex Lives (Celebuzz)