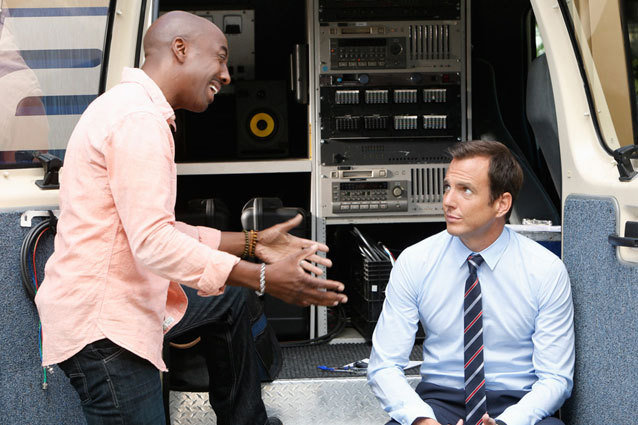 CBS
Given the astronomical ratings of The Big Bang Theory, currently the most-watched scripted show on television, CBS could get decent ratings for the rest of Thursday night if they just ran a loop of old aspirin commercials from the 1950s. Y'know, the ones with the little animated jackhammers attacking a cartoon x-ray of the pounding skull of a man in a gray flannel suit.  
Actually, now that I say that, that would be awesome. They should totally do that.
Sadly, it would be more entertaining than either of the new sitcoms CBS has currently scheduled for Thursday nights between The Big Bang Theory and the increasingly irrelevant Two and a Half Men. Both The Crazy Ones and The Millers have excellent casts and high-powered off-screen talent, and yet both are seriously hampered by terrible scripts and inconsistent characterization.
Look At Me, I'm Wonderful!
The Crazy Ones is a bizarrely self-indulgent trifle from David E. Kelley, who indulges all of his most irritatingly whimsical mannerisms on this tale of an aging Chicago ad executive. Speaking of whimsical mannerisms, Robin Williams returns to television for the first time in over thirty years as creative genius Simon Roberts, caught in a strange no-man's-land between the cocaine-fueled anarchy of his old stand-up persona and the icky sentimentality of his "serious" film roles. Sarah Michelle Gellar has the thankless role of his daughter and creative partner Sydney, an underwritten part that's supposed to serve as the buffer between Williams' antic riffing and the audience. But since she spends most of her screen time being exasperated by her dad's schtick, the audience also finds his tics obnoxious and tiring.
The genuinely talented Hamish Linklater is utterly wasted as the agency's art director; his sole memorable character trait is that he talks at the same time as Sydney, making both of them unintelligible, which I suspect we're supposed to find endearing and make us want the characters to hook up or something. James Wolk, last season's Mad Men breakout, plays a smarmy charmer who makes Bob Benson look the soul of office discretion. But by far the most annoying is Amanda Setton as Sydney's assistant. She's a likeable actor, whom you may remember from the early episodes of The Mindy Project, where she gamely did the best she could as the generic Jersey-girl receptionist before she was written out of the show. But her key scene in the pilot, where she offered to let Simon smell her hair because "the scent of a young woman's shampoo" is supposed to reinvigorate an older man, was Kelley at his creepy, patronizing worst. I mean, it was just really icky.
Congratulations, Dads, You're No Longer 2013's Worst Sitcom
Still, as annoying as it is, The Crazy Ones is still at least slightly better than The Millers. Creator and executive producer Greg Garcia is in danger of losing all the goodwill he got as the creator of My Name Is Earl and the genially charming Raising Hope with this formulaic tripe. With Will Arnett, Margo Martindale and Beau Bridges in the leads, the show has an immensely talented cast. But the by-the-numbers plot (local news reporter Nathan finally tells his bickering parents that he divorced his wife, which promptly causes his father to walk out on his mother after 43 years) is more suited to one of those tongue in cheek retro series that they're making on Nick At Nite. The quality of the writing is even worse: unrealistically sitcommy, with telegraphed jokes and obnoxiously broad characterizations. The enormously talented Martindale is stuck playing a shrill, intrusive mother, and as the clueless and accident-prone dad, Bridges gives Homer Simpson a run for the most too-stupid-to-be-alive character currently on TV. The always-appealing Jayma Mays, as Nathan's younger sister Debbie, comes closest to likeable, but she's nowhere near enough to save this mess.
More:
Why 'Bob's Burgers' Has The Most Relatable TV Family
Is Lorne Michaels Behind the Miley/Sinead Feud?
Life Lessons from TV's Leading Ladies
---
From Our Partners


Stars Pose Naked for 'Allure' (Celebuzz)


20 Grisliest TV Deaths of 2012-2013 (Vulture)