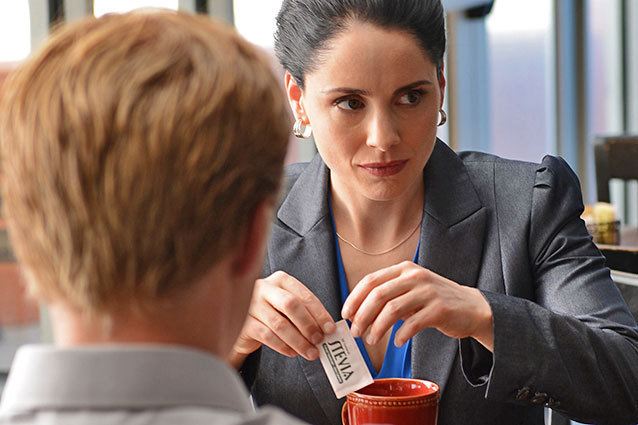 Ursula Coyote/AMC
Breaking Bad has a number of great villains swirling around the Albuquerque desert, but few were as entertaining as the tea-sipping Lydia. She is pure evil in a grey pantsuit, and would easily have her enemies dispatched while taking in a soothing slurp of herbal tea (sweetened with Stevia of course). Now, the actress behind the character, Laura Fraser, has joined ABC's upcoming series The Black Box, TV Line reports.
We're excited to see an actor as talented as Fraser continue to find work in this post-Breaking Bad world we now inhabit, but we're also hoping, in the irrational parts of our brains, that she might make some kind of appearance in the upcoming Breaking Bad spin-off Better Call Saul.  Breaking Bad  creator Vince Gilligan said he would like to have Breaking Bad stars make cameos in the new show so lets keep hope alive. Let's also push down nagging questions like "Does that make sense chronologically?" deep into our guts where they can't interfere with our reckless TV wishes.
The Black Box is a limited series that focuses on Elizabeth Black (Kelly Reilly), a gifted Neuroscientist who struggles with mental illness. We're hoping that Fraser brings her own version of 100 percent naturally sweetened evil to ABC's upcoming drama.
Follow @Hollywood_com
Follow @CurrentlyJordan