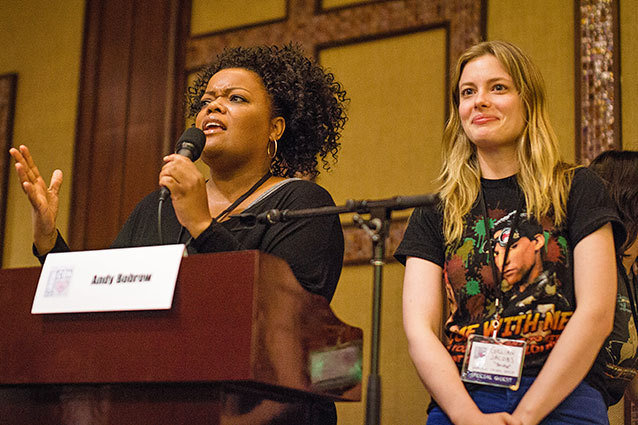 Allen Negrete
As Abed Nadir once said, "Some flies are too awesome for the wall."
So last weekend, a group of dedicated Community superfans took it upon themselves to host the second annual CommuniCon — part convention, part rally, part celebration of the perpetually on-the-bubble show. The process started, as is now so often the case, on Kickstarter, where over $18,000 was raised in support of the event. 300 attendees showed up to a Los Angeles area hotel decked out in their finest Inspector Spacetime cosplay and Jeff/Annie t-shirts to geek out together, this time in person. Organizer Gillian Morshedi describes the appeal of that facetime: "Being an uber fan of Community can be pretty exhausting, because you're constantly wondering if your favorite show is going to get cancelled or put on hiatus or renewed, but not given an air date. So it's so great to have a few days just celebrating how great the show is, completely surrounded by other people who love it as much as you do."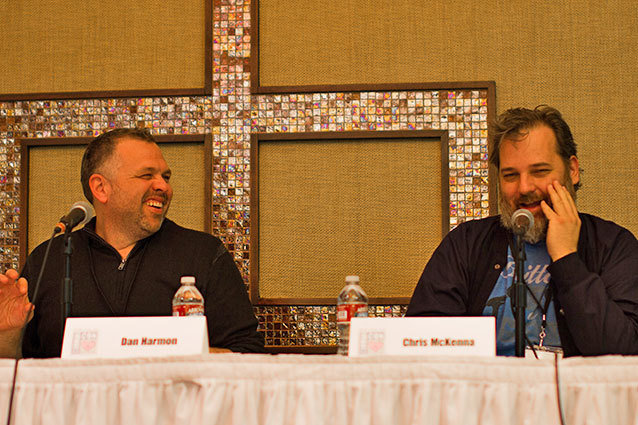 Allen Negrete
The itinerary included a "No Small Parts" panel, where the actors who play recurring Community characters like Neil, Vicki, Garrett, and yes, even the terrifying "Human Being" got to claim the spotlight; a Fans vs. Writers trivia contest; a fan art showcase; and a session with outspoken returning showrunner Dan Harmon and co-Executive Producer Chris McKenna. Main ensemble members Gillian Jacobs and Yvette Nicole Brown crashed the convention for the second year in a row, taking selfies with fans and asking a few leading questions from the audience during panels. Why do these busy Hollywood-types make the time to convene with the little people? "CommuniCon is a way for them to directly feel how much their fans love and appreciate and admire them and their talents. We get to thank them for their passion by throwing our own right back at them," Morshedi says.
Community returns to the NBC schedule in January. In the meantime, satiate your Greendale cravings with this documentary on the events of the show's first fan-run convention.