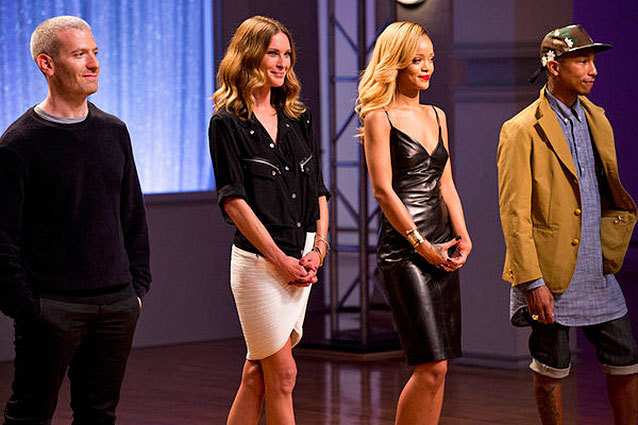 Bravo
Styled to Rock seems like the hundredth show on Bravo to try and recapture the audience of Project Runway. C'mon guys, can you let it go already?  The only difference between Project Runway and Styled to Rock is intermittent appearances by Rihanna. It also seems to rest on celebrity more than talent. 
Each week, designers must create an outfit for a guest judge with an additional twist or challenge thrown in. The only difference is the "rock" angle allows the designers to produce more flamboyant, avant-garde, and "costumey" pieces. They also get the luxury of using "rock" as a reason their work is unfinished. The format is a little different, to avoid copyright infringement, and has the top and bottom designers separated before their designs are finished at a process called "The Pull." 
Judges include Pharrell, supermodel Erin Wasson and Rihanna's stylist, Mel Ottenberg. The winner gets a cash prize, appears in Glamour magazine, and they end up sewing costumes in a basement working on Rihanna's design team. It seems like a really elaborate job interview to become a design assistant for a celebrity. Also, most celebrities  tend to wear high profile fashion designers. If the prize incoporated music video or tour costumes, it'd be a better career win for a new designer. 
Wasson and Ottenberg do not have much in the way of personality. They're so robotic and monotone that even a cogent, thoughtful critique comes off as catty. They don't have the likable personality that earns their snarky comments. Rihanna and Pharrell also seem like they want to be in the show as little as possible. Rihanna gives confessional interviews about the challenge but doesn't interact much with the designers. Pharrell is a "mentor" but does not appear during the design phase.
The show does promise tons of drama. They have selected a random array of contestants. Flighty leatherworker Ahni Radvanyi won the first challenge with a very well-crafted body suit inspired by Nicki Minaj. However, she described the process as "giving birth to a thought baby" with her "brain juice."  Andre Soriano channels every gay Project Runway contestent ever with sassy commentary, short shorts and a shredded T-shirt. There's also icy latex-fetish designer Laura Petrielli-Pulice. These crazy contestants guarantee that fur will fly. That fur will then be glued on a bra and worn by Rihanna onstage. 
The celebrity judges include popular musical acts like Big Sean, Kid Cudi, Kylie Minogue, Carly Rae Jepsen and...Khloe Kardashian? Glee star Naya Rivera and Kelly Osborne will also appear. 
Clearly, Styled to Rock is resting more on celebrity than on making celebrities. Project Runway is like PR/design bootcamp. Talented designers come up with great soundbytes and amazing designs. Styled to Rock has designers contructing psuedo-glamorous outfits for celebrities. Only time will tell if this series can shine bright like a diamond.