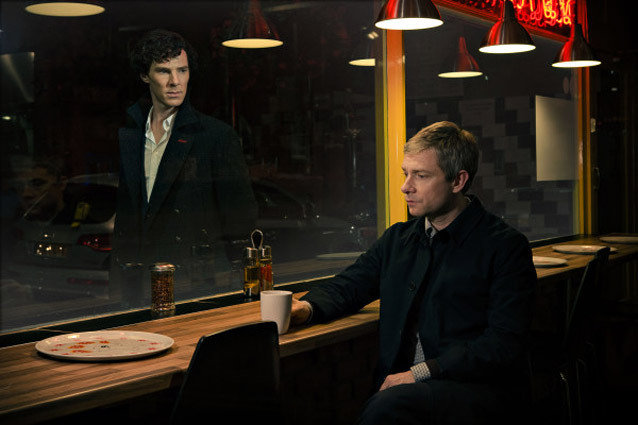 BBCOne/Twitter/Hartswood Films
We might still have to wait until January to reunite with Sherlock and Watson, but at least now we have the first still from season three of Sherlock to gaze at. Knowing that its fans couldn't be kept at bay for much longer, BBC One took to Twitter and Facebook to reveal the first official photo from the upcoming season of the fan-favorite sleuth show.
The picture features Sherlock (Benedict Cumberbatch) solemnly looking through a window at his forlorn sidekick Watson (Martin Freeman), and comes with a quote from creator Steven Moffat: "It's been a long time since Sherlock Holmes [spoiler] jumped off that roof - it's time to reveal the truth about what happened between him and the pavement." While there's not too much that we can infer from the photo -- although we're guessing that it's set before Watson finds out that Sherlock is still alive -- we're hopeful that the first episode will give us the answers to all of the questions that we've been waiting over a year for. 
BBC One even tweeted out three of the questions it knows we all have:
How did he do it? #Sherlock

— BBC One (@BBCOne) November 5, 2013
And how will John take the news that his best friend faked his own death? #Sherlock

— BBC One (@BBCOne) November 5, 2013
What will #Sherlock think when he finds out John has fallen in love with Mary Morstan?

— BBC One (@BBCOne) November 5, 2013
And here are our responses to these questions:
1. We don't know how he did it, and it's driving us nuts! That's why we desperately need Sherlock to come back into our lives.
2. Watson totally isn't going to take it well. There comes a point when he can no longer be the trusty sidekick who simply goes with the flow. When your best friend fakes his own death, you better believe there are going to be some trust issues.
3. Yeah, Sherlock doesn't really normal human emotions, so chances are, he's not going to take a liking to Watson's new love interest.
Season three of Sherlock will premiere on Jan. 19 at 10 PM on PBS. But you can catch Cumberbatch and Freeman in The Hobbit: The Desolation of Smaug, which hits theaters Dec. 13. 
Follow @CaseyRackham
Follow @hollywood_com