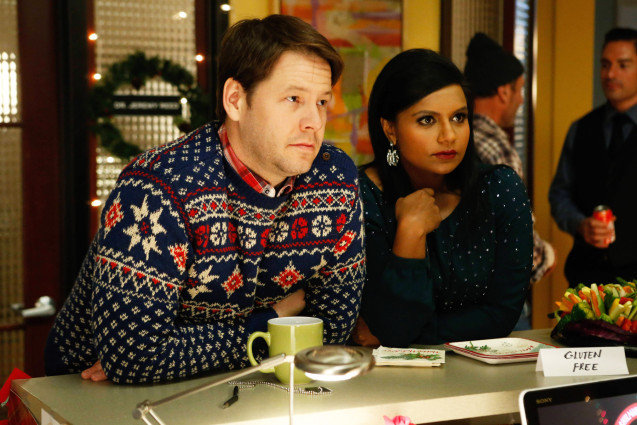 Jordin Althaus/FOX
The Mindy Project opened this week with a relatable Christmas meltdown. After strapping a Christmas tree to her back, Mindy lugs it into the office to find a pine already in place. Ending this insanity the only way she knows how, Mindy throws the decorated tree outside, starting off an energetic holiday episode full of lies, cameos, and booze bras. Plus, Tamra (Xosha Roquemore) does an impression of celiac disease. "When my stomach sees gluten it's like 'this ain't your party.'" It really is the most wonderful time of the year. 
Mindy's lust interest Cliff the lawyer (Glenn Howerton) is still in play, until she sets herself up for failure at a building-wide Christmas party. In a moment of weakness with her ex-casual-sex-enemy, the midwife (Mark Duplass) and his girlfriend, Maria Menounos, Mindy realizes she has to share the festivities with this cute cameo couple. She impulsively claims to be dating "a handsome lawyer who works in this building," potentially showing her crazy to Cliff too early. Mindy assures Danny (Chris Messina) everything will work itself out. She has a "man-catching-party-plan."
While the continuing flirtation between Mindy and Cliff marinates, Dr. Reed (Ed Weeks) and Party Boy Peter (Adam Pally) are teaming up. The now trimmer Dr. Reed is sick of overeating, and Peter is sick of getting drunk and trying to have sex with trees in front of his employers. They both lean on each other for support managing their vices, alcohol and anything covered in frosting. This proves to be a winning duo despite their stumbles. ("One minute I'm normal and the next minute I'm sucking down Mindy's bra wine.")
The party starts with Mindy's seduction, which means filling up her wine bra. What seems like an obvious joke, turns out to be a real product. But before Mindy can perform her best sexualized version of Santa, Cliff leaves. But she's not alone, Mindy has her two best friends, Danny and wine bra. As Danny consoles her she counters with "Sad is when the cab driver thought I was Jaden Smith. I'm heartbroken." He then gives Mindy her secret Santa gift and a reason to smile, performing the exact dance routine from Aaliyah's music video "Try Again." 
The brakes are promptly pumped on any sexual tension between Danny and Mindy, after a shared moment that suggested a possible kiss. Danny then shuts down her invitation to "get some air," a specific part of her man trap plan disclosed to Danny. It is hard to tell if he's not interested or just upset about his demolished gingerbread "icon of American architecture." For a moment on the roof it seems like Mindy has no one but a pigeon and the discarded Christmas tree. Finally, Cliff returns with a cookie and a confession that he ended his relationship to be with Mindy. Their kissing makes any romance with Danny an even slower burn. The episode is summed up by Mindy's holiday sentiment: "Gluten is my favorite food."