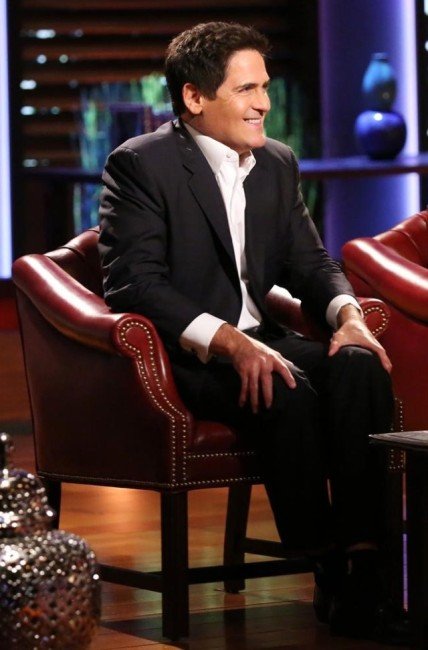 ABC
There were entrepreneurs in the Shark Tank halls. Would they find excellent deals under their Christmas trees or would Mr. Wonderful leave them a lump of coal? It was the Christmas episode, in case you hadn't figured it out yet. 
First
The first entrepreneur in the tank was Shawn Genenbacher, who was pitching Lite-netics. He wanted $125,000 for 15%. These were magnetic light strands that were supposed to whittle time spent putting up Christmas lights down to next to nothing. He was selling them for both residential and commercial use and he'd been at it for four years, averaging about $100,000 per year. The Sharks picked up immediately that there were scaling problems. The lights were too expensive to make, too, since the fact they were magnetized drove the production costs up. His lights were also way more expensive than his competitors. He also didn't do the best job presenting, stammering answers on multiple occasions. One thing that he did have in his favor was that it was patened. No one could copy it. Sensing an opportunity, Kevin O'Leary made an offer for $125,000 for 50% of the company. Robert Herjavec, Mark Cuban  and Lori Greiner got out fast, ensuring no protracted bidding process. Greiner also pointed out that the bulbs were too big, since most people were buying icicle lights. Daymond John got in the act and offered $125,00 for 40%. Genenbacher declined both their offers, and the Sharks declared that he would never make any headway in the market.
Second
Next in the tank was Morri Chowaiki, pitching the Hannukah Tree Topper, an ornament for interfaith families. He wanted $50,000 for 15%. He'd made $150,000 ... in three seasons, which caused the Sharks to groan. Several of the Sharks deemed it non-proprietary and the sales too dismal. O'Leary and Greiner were out in quick succession. It even seemed like hell froze over, since Greiner agreed with O'Leary's assessment. She's usually too busy insulting him. John didn't like Chowaiki's jugement but offered $50,000 for $35K. Chowaiki was hemming and hawing, which made me flash back to that idiot that was selling the individual wine glasses who screwed up not once but twice on the show. After a dramatic pause, he held mistletoe over his head and accepted the deal with John.
Update
It was about the Ruckpack , which had been on a previous Shark Tank. It was doing really well, it had secured a $4 million deal with Walgreens, all with help from Herjavec and O'Leary.
Third
The third entrants in the tank were Rachel Bernstein, a former model, and Melissa Barone, an expert on hair extensions, of Cashmere Hair Girls of Beverly Hills. They wanted $45,000 for 15%. They were selling hair extensions for $399. It was high quality Indian (the country India, not Native American) hair and it came in seven strips that had clips that were easy to take on or off..They'd made $38,000 in sales in six months. Cuban was out first. O'Leary was next. John followed suit, but not before first having to calm Barone down, who was nearly hyperventilating. Greiner liked the idea of hair parties. Herjavec agreed, but didn't see it worth investing in and he was out. Greiner was then out. No deals. Bernstein had to console Barone outside the Tank.
Fourth
The last people in the tank were Evan Mendelsohn and Nick Morton for Tipsy Elves. They were selling really, really ugly holiday-themed sweaters (it was mostly Christmas, but they also had Hannukah-themed items), ranging from Santa riding his sleigh upside down to gingerbread men running from a giant Santa hand reaching for them. Cuban had this look of disgust as soon as he saw them and O'Leary said what Cuban was thinking: "These are hideous." Undeterred, the two men wanted $100,000 for 5%. Surprisingly, they had made over $1 million in two years, mostly online. They wanted to move to retail, which most of the Sharks shot down as a bad idea, since it would require tremendous overhead, like warehouses the size of a couple of blocks. Cuban was out. O'Leary made an offer, $100,000 for a royalty of $2 per sweater until the money was paid back and then $1 in perpetuity - but no equity. Herjavec offered $100,000 for 10%. John thought about making an offer, but couldn't pull the trigger. They accepted Herjavec's offer.
Another .500 night for people making deals. Of course, these handshake deals all have to pass through due diligence, so there's no guarantee that further down the road, the deals didn't fall through. Still, it was a better night than some, though there didn't seem to be as much jockeying amongst the Sharks as there has been in previous episodes. My perception may have been colored by my shock at Greiner agreeing with O'Leary, though. There won't be a new episode until Jan. 10.