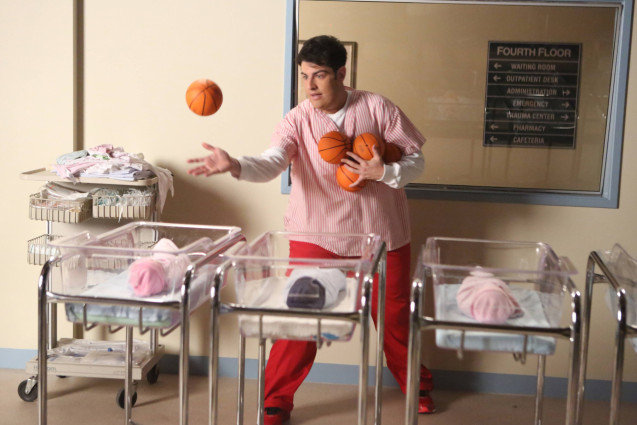 FOX
Seasons may change and New Girl may be back from its winter hiatus, but not all of us are about that forward motion. Most of the loft crew spend the episode stuck in Nick's bar and stuck in the past. Jess (Zooey Deschanel) has 20 minutes to decide if she wants to leave her classroom (now an alge-bio-civics class) for a fundraising job at the museum, and she solicits questionable advice from her staid friends. The flashbacks and everyone-in-one-room dynamic led to a pretty amusing episode, in spite of a really random usage of "Gangsta's Paradise." Let's recap our favorite lines from "Clavado en un Bar."
On a fine scotch.
Schmidt: "A note of cedar, vanilla, toback-y, hunting, shooting, fishing, fatherhood, bonding, sadness ... please don't leave me."

On soliciting a second opinion.
Jess: "You beautiful sons of bitches are gonna help me!"
On the joys of always having a stopwatch on your person.
Coach: "I'm sorry you're in such a pickle. But I'm not sorry I get to time something!"
On not being the MVP of his Latvian basketball team.
Wintson, with blue cheetah hair: "The outdoor league? Man, they play on a hillside."
On being a 31-year-old model.
Cece: "My last job was a phone sex commercial. And I was the one calling."
On the pecking order in socially progressive schools.
Jessica: "Yeah, that's right. We have an ethnic, gay bully."
On the American Girls Baseball League.
Kevin '97, singing: "This used to be my playground ..."
On Christmas tree sales strategies.
Schmidt: "Let me put you in a spruce today."
And finally, on the actual oldest profession.
Jess: "Don't be hard on Nick. He has a non-traditional career."
Nick: "Or maybe it's the most traditional. I may be thinking of prostitution."