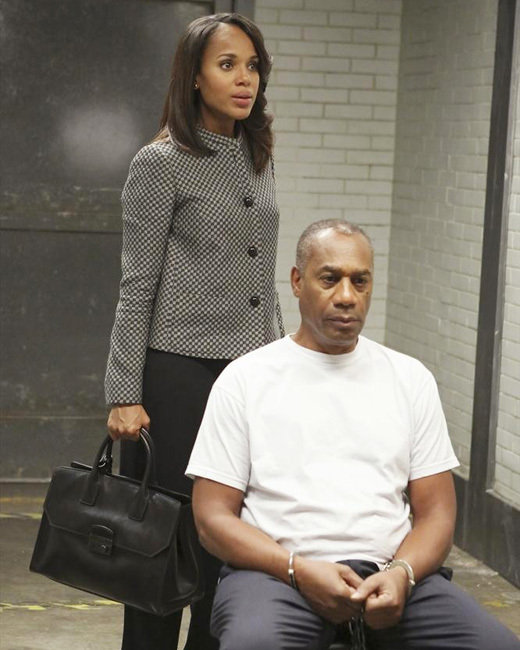 ABC Television Network
The ABC Scandal spring premiere is mere days away and there's a 75 percent chance that you are absolutely not ready. So much happened in the winter finale and in the few episodes preceding, so many questions were left unanswered, and there was so much blood! Literal blood (hi Quinn, hi Daniel Douglas), and the emotional kind that occurs when you don't know whether or not your mother is an evil, mass-killing, bomb-planting maniac. So in an attempt to help us all mentally prepare, here are a few things we need to remember going into Thursday night's highly-anticipated episode.
Sally Langston Is Caught Up
Not only did we watch Vice President Sally Langston murder her husband in cold blood (while quoting Biblical scripture, no less), but we also witnessed the death of her dreams for a Presidential run. Or did we? On the one hand, Mellie and Cyrus jumped all over the opportunity to, essentially, blackmail her into staying on Fitz's team and working with him on his re-election campaign. Because she called Cyrus and told him the truth, she can't really risk running against Fitz. However, her campaign manager is just as ruthless as the rest of 'em and there's a good chance he'll figure out a way to free her from the reigns of Team Fitz.
Jake Is in Command 
One of the most important moments of the last episode came when we saw Jake as the head of B6-13. He and Fitz had teamed up to get Olivia's Dad out of his position, which means Eli now has more time for those Sunday dinners with Olivia. Except, something tells us this father/daughter relationship isn't about to become all skyrockets in flight, afternoon delight. 
Mama Pope Is Too Close for Comfort
Sometimes when you put your Mom on a flight out of the country in an attempt to help her escape your father (who, actually, was the innocent one after all... maybe) she decides to stick around anyway. The last time we saw Mama Pope she was way too close for comfort, calling Livvie from a burner phone right outside of the White House. Yikes.
Huck Is Probably Going to Have Some 'Splaining to Do
After that whole face-licking, teeth-pulling YOLO fiasco with Quinn, Huck basically sent her running straight back to B6-13. But Olivia is not going to just let this happen, and we suspect that when the season picks back up, Huck's going to have some serious 'splaining to do.
It's Time for Harrison's Storyline to Pop Off
This needs to happen. Seriously. In the last few epsiodes we've heard the name Adnan Salif from Cyrus, who kind of used it as a threat towards Harrison. We know Harrison (like the other Gladiators) must have been caught up in some serious stuff, but we need more information about this guy and why Harrison is deathly afraid of him entering the United States. Here's hoping Brolivia Pope's backstory finally takes off.