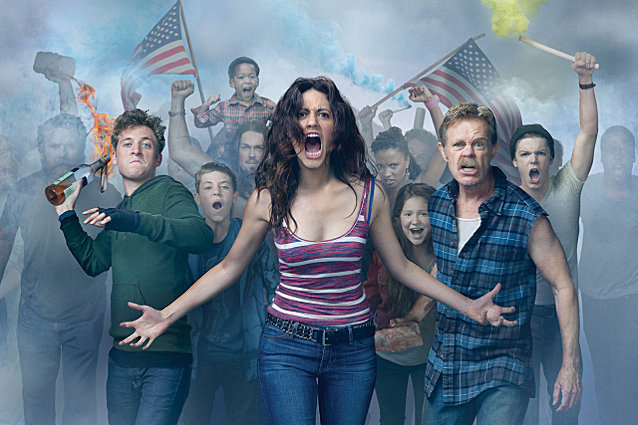 Showtime
At a distance, Shameless looks like it's got all it needs to be a smash hit/critics' darling: superb acting (performed by a cast of fresh talent, with a few seasoned pros leading the way), a down-and-out underdog family, expertly written black humor, and sensitivity to delicate subjects like drug abuse (and people abuse), alcoholism, and mental health. In short, it's got the makings to sweep some major awards, in addition to being a prime watercooler topic. But is it?
Don't get us wrong, its ratings are more than respectable, and it's also critically well-received: it's just that it doesn't have that same sort of buzz that surrounds its more popular contemporaries, nor the awards that generally follow. Joan Cusack received guest star Emmy nods, and William H. Macy scored a Critics' Choice nomination, but other than that, it's shockingly under-decorated. Perhaps moving over to the comedy category can help the show, but then again, it's an increasingly dark hour of TV (though it should be mentioned that John Wells is the man who deemed his shockingly unfunny adaptation of August: Osage County a comedy).
So why isn't Shameless getting the recognition it deserves? Well, first off, there's the gross-out factor (some of my friends who are fans joke that they can't watch the show over dinner; still others claim they can smell Frank's Pigpen-esque filth through the screen) – and, on a less superficial level, there's also the fact that it can be very disturbing. In Season 2, Frank tricked a "friend" out of a desperately-needed heart transplant in hopes of inheriting her pension. In a more recent episode, Fiona's cocaine-fueled partying led to her baby brother's near death (and possible brain damage). These people are intensely flawed, to say the least. Shameless lives in the uncomfortable gray area between the feel-good aura of a show like The Mindy Project and the glamorous (by comparison, anyway) anti-heroism of shows like Mad Men and Breaking Bad. Frank Gallagher is a character you very rarely root for, not even as he inches his way towards death.
Plus, unlike the more streamlined programs that follow careful A-story/B-story/C-story structures, it's, well, kind of mess. The threads of the story get tangled easily. Though its frenetic structure may seem untidy at first glance, it's one of the things viewers who stick with it come to love most: the frenzied, overlapping plotlines mirror and represent its characters' own hectic lifestyles.
Shameless continues to turn many of our preconceived notions about TV storytelling on their heads, even as we blaze through this "golden era" of television, where it seems every show and its brother are revolutionaries. It pushes envelopes and breaks down barriers, juggles a sprawling ensemble cast, and perhaps most importantly of all, brings heart to its heartless depiction of Chicago's South Side.
In other words? If you're not watching, you should be.