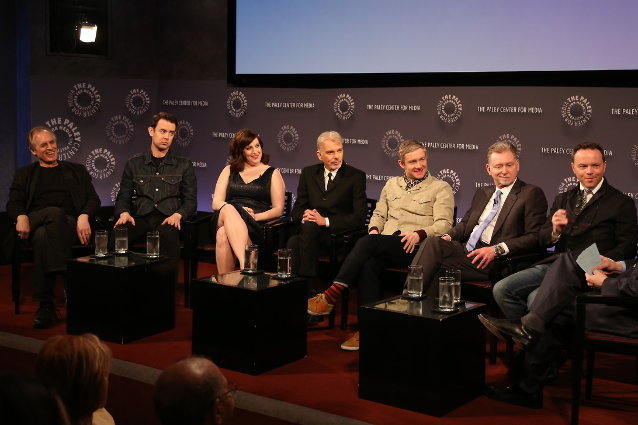 The Paley Center
The FX original limited series Fargo started its 1o-episode run this week, dontcha know? We caught up with stars Colin Hanks, Keith Carradine, Martin Freeman, and Billy Bob Thornton, plus showrunner Noah Hawley on the red carpet of the show's preview panel at the Paley Center New York. Here's what they had to say about successfully adapting a beloved cinematic masterpiece, the "golden age" of TV, and the show's frigid Calgary set.
Hanks on the allure of the limited series:
"I think now, with the way some shows are being made now, you have this luxury of not necessarily having to make a TV show that will last for 100 episodes. Now it's really more about letting the story dictate how many you do."
Hawley on what attracted him to the project:
"I wasn't being asked to copy something, I was being asked to create an homage really, which then forced me to say, 'Well, what made that movie that movie and how do I tell a story that feels the same, but doesn't play the same?'"
Carradine on how the pilot script turned skepticism into enthusiasm:
"I said, 'Oh my gosh, how are they gonna do that?' And then I got the script and I said, 'Oh, okay. That's how they're gonna do it.' It's brilliant. It takes where [the Coen Brothers] started, and it kind of ramps off from there. And it takes into account where we as an audience have come in the last 18 years since that film was made. There's no other film like it, and yet, in those 18 years, the audience has become more sophisticated and, I think that what we're doing here reflects that."
Hanks on the show's pitch-black humor:
"Violence isn't necessarily played for laughs, but maybe what happens just prior to it or just after it, in its aftermath, is sort of a way of releasing that tension that violence brings to the plot."
Hawley on the show's heavyweight cast:
"The network and I really wanted to cast it like a movie, and aim for a sort of caliber of actor. Knowing that it was only a 10-episode commitment, why settle?"
Carradine on the cultural landscape of TV:
"If you really want to do incisive, progressive storytelling, television seems to be the place now. It's kind of a new golden age."
Freeman on how the location helped him find his character:
Freeman: "If we're pretending to be in a very cold, snowy place, it helps if we're in one. And Calgary was white on the ground for the entire four months that we were there."
Us: "Well, it was here in New York too. You could've filmed here."
Freeman: "Oh, don't tell me that!"
Thornton on another Coen Brothers film that'd make a great miniseries:
"Blood Simple. Let's do it."