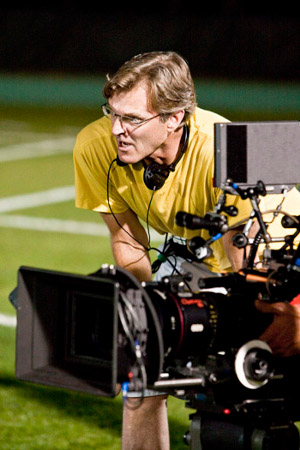 AMC, the network that brought us Mad Men and Breaking Bad, has got another potential winner in the works: The Wreck, a Southern college football drama, from The Blind Side director John Lee Hancock.  The hour-long series would center on "the high-profile coach of a once legendary team that has just finished a losing season.  The school gives the coach one last chance to turn the team into winners or he's fired."
If AMC picks up the project, The Wreck would join political thriller Rubicon and zombie thriller The Walking Dead as part of the cable network's push to rival premium channel HBO's lineup for sheer critical praise.  Mad Men and Breaking Bad are already two of the most acclaimed hour-long serials on television.  It's sort of shocking how quickly AMC has managed to transition from a network that played only movies to the home of some of the biggest shows on television right now.  AMC premiered their first drama, the award-winning Mad Men, in 2007; now, just three years later, the network is looking to develop a line-up of five high-profile, hour-long series.
'The Wreck' comes from writing duo Graham Gordy and Michael Fuller, and will be produced by Anonymous Content and The Blind Side's Hancock.
Source: Hollywood Reporter