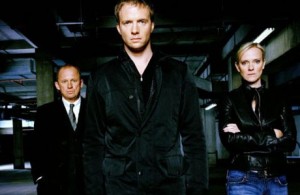 The United States has bred many a superspy, but one can't deny the contributions that the British have made to the sub-genre. Sure, we've got Ethan Hunt and Jason Bourne, but we owe a great deal to our friends from across the pond for the high-octane James Bond franchise and one of the coolest serialized shows about the adventurous and often dangerous espionage industry - Spooks (a.k.a MI-5 to us Yankees).
To the dismay of longtime fans of the BAFTA-winning spy drama, ABC Studios has closed a deal for the rights to Spooks and will adapt for primetime television, reports Deadline. Michael Seitzman, writer of the Oscar nominated North Country and producer of two pilot's at the network (the ill-fated Empire State and House Rules) has been tapped to write and executive produce the adaptation, which has received a script order from the alphabet. The program follows the work of a group of MI5 officers based at the service's Thames House headquarters in highly secure offices known as The Grid. Launched in 2002, Spooks has become one of the U.K.'s top series of this decade (a new season is set to debut this fall). Under the title MI-5, it has aired in the U.S. on A&E, BBC America and PBS and has become one of the most recognizable British imports on the tube today.
With any luck (and a lot of praying), Seitzman will honor the source material and give American audiences a taste of what the English has been savoring for the past eight years. Spooks is known for it's incredibly smart dialogue and hardcore depiction of the lives of spies. Comparisons to Alias and 24 are not welcome - this is a program that shows what the daily hardships and dangerous missions of real intelligence operatives are like. A glamorous, "Americanized" makeover will turn off fans of the original and could sink ABC's version before it even gets started.
Source: Deadline