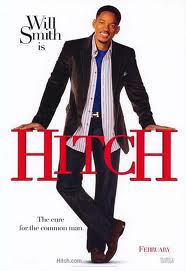 Despite the fact that he keeps playing the same role over and over, Will Smith continues to be a good luck charm in the box office. It's a pretty good gig - the man manages to keep breaking his own box office records without changing a thing. Unfortunately that Midas touch can only work its magic when he's actually on screen. Somebody needs to give Overbrook Entertainment and Peter Chiarelli (The Proposal) the memo, because together, they're hoping to turn Smith's 2005 romantic comedy, Hitch, into an hour-long TV series for Sony Pictures Television. Good luck with that one, guys.
The show is described as action-packed (weird, I wouldn't have used that term to describe the original Hitch) and is already garnering bids from a few different networks. Really? They already tried this once, but instead of a full hour, they tried for a half hour sitcom penned by Ben Wexler (Still Standing). CBS even grabbed the rights, but they never even got to shoot a pilot. Maybe, just maybe these things happen for a reason.
Hitch wasn't exactly what I'd call a good movie. In fact, if it wasn't for Will Smith, it would have been just plain awful. The Hitch character is so suave, he knows everything about women and he gets paid by nerdy dudes who want to make out-of-their-league girls fall in love with them, except it turns out Hitch doesn't know anything about women and his life is so empty and he almost loses the really unlikable (and kind of bitchy) girl he falls for. Eh, who cares? So now someone wants to stretch this story out into an hour a week for 20 episodes and it won't star Will Smith? Sounds like a dud to me. You can't really water down crap and expect an improvement.
Source: Deadline