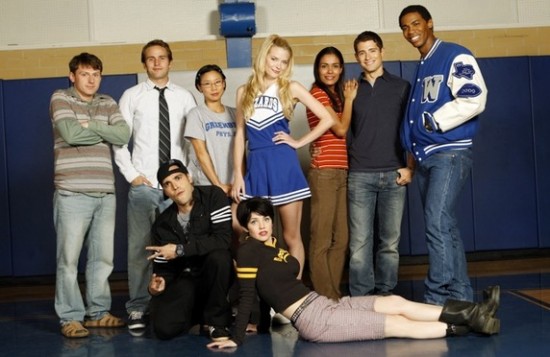 It's that time of year again. The leaves are falling, the temperature's dropping, and people are breaking out the boots and sweaters. While I'm always stoked to cozy up on the couch with a cup of tea and some good TV when October rolls around, the sadistic side of me gets a little bit of sick pleasure from watching as the lesser of the new Fall shows bite the dust. Enter our Fall TV Deathwatch.
Stick a Fork in it: My Generation
It was a novel idea: a television show based off a two-part documentary following a high school class during their graduating year and 10 years after they left the hallowed halls. However, of the 17 new network shows this Fall, My Generation pulled in the lowest ratings (outside of the already axed Lone Star). It even seemed like it could have a good run; there were plenty of tangled relationship webs and lots of feel-good moment potential but now thanks to a lack of viewership the 3.9 million people who did watch new drama will have to go on without a resolution.
Things are Looking Grim: The Whole Truth
With My Generation out, ABC's not done dealing with struggling ratings. Their Wednesday drama, The Whole Truth, is nipping at My Generation's heels with a measly 4.6 million viewers. The crime show, which follows TV vets Maura Tierney (NewsRadio, ER) and Rob Morrow (Northern Exposure, Numb3rs) as a Manhattan ADA and a defense lawyer who face off week to week on different cases (because that would happen), is treading water for now. The ratings are enough to earn it a third episode, but we'll have to wait and see how it holds up this week. 
Still Kicking: Running Wilde
Will Arnett's not-so-triumphant return to Fox may not even last as long as the short-lived run of his last Fox show, Arrested Development.While I'd like to be able to say that there's obviously something wrong with America, I can't. The show simply isn't that funny, and like its 9 p.m. partner, Raising Hope, Wilde is also up against the DWTS ratings behemoth. The problem is with 5.6 million viewers for its premiere and only 4.5 returning for episode two, things are looking grim. That doesn't exactly qualify as a niche, and it's not that far from the 4.1million that condemned Lone Star and My Generation to untimely death. Wilde had better turn up the funny, or their goose is cooked.
In a Perfect World: S#*! My Dad Says
While we've got great shows (like the aforementioned Lone Star; sorry, I can't stress it enough) being cut short for a lack of ratings and even tried and true vets like 30 Rock are only pulling five or six million viewers, a show like S#*! My Dad Says comes along with its slew of bland jokes pawned off of some kid's Twitter page and scores a ratings Bonanza. S#*! (I get way too much of a kick out of calling it that) continues to rock the ratings game with episode two pulling in 10.4 million viewers. It looks like this show's going to make it, but in a perfect world, I'd put it on the chopping block. Sadly, the viewers have spoken. I apologize in advance for what I'm about to say, but America, WTF?
Sources: The Hollywood Reporter, TVByTheNumbers