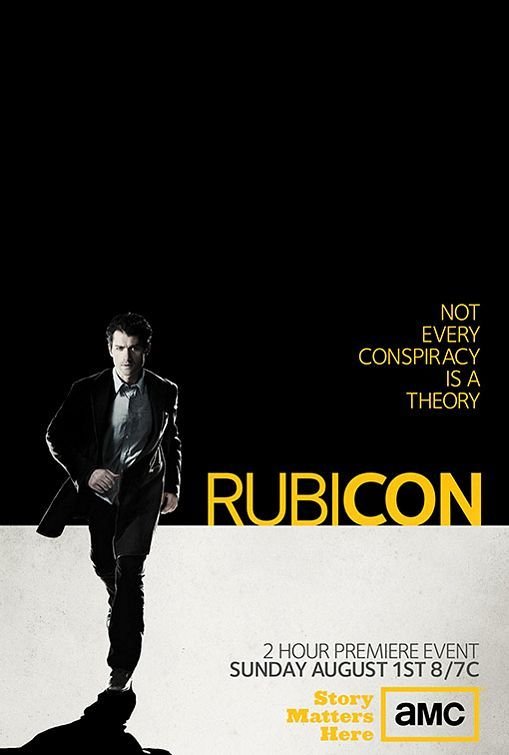 With its original programming, AMC has been very lucky. Its very first series, Mad Men, has garnered dozens of awards and became a pop-culture phenomenon despite middling ratings. The same can be said for Breaking Bad, its thought provoking sophomore effort about a high school teacher who takes a career as a drug dealer after being diagnosed with terminal cancer. Unfortunately its third series, the quiet conspiratorial thriller Rubicon, hasn't fared so well, as Michael Ausiello reports that the channel has canceled the show after the end of its freshman run.
Starring James Badge Dale, the program focused on Will Travers, an analyst at a New York City-based federal intelligence agency who is thrown into a case where nothing is as it appears to be. The show started off quiet and tedious, but as the story expanded and the cases that Travers investigated became more and more dangerous, it turned in to an intriguing series unlike anything that is on television, making today's announcement all the more disappointing - though not exactly surprising.
Rubicon wasn't really attracting a huge audience, but the fans it did have were coming back each week to delve deeper into the rabbit hole. Like its other shows, AMC was probably hoping that the end-of-season numbers would've shown significant improvement over the ratings of the first few episodes, but it just didn't happen. The executives over at the channel also probably figure that, with the ongoing success of its other titles - and the amazing performance of its latest creation The Walking Dead - they don't need to waste anymore time or money on a show that hasn't been bringing in major advertising dollars, but fans will surely miss this wonderfully layered dramatic thriller. I know I am already...
Source: Michael Ausiello